William Gay was a 19th century Australian poet and occasional teacher who had emigrated from Scotland.
He was born on the 2nd May 1865 in Renfrewshire. His father, who was also called William and worked as an engraver who created patterns that would be used in the production of wallpaper, was very religious and hoped that his son would become a church minister. William jnr though had other ideas. He was a bright boy and, after attending boarding school in Alexandria he went on to study at the University of Glasgow, aided by the award of a bursary.
At the earliest opportunity he took himself off to London with a hope that he would make his name as a poet but he found life hard there, and his health suffered badly. He returned to Scotland for a while and was admitted to hospital with suspected tuberculosis. Strangely, an ocean voyage was suggested as a possible cure and he found himself in New Zealand by 1885. He earned a living for the first two years as a clerk on ships travelling between the islands and Australia before illness struck him down once more.
Gay recovered with the help of relatives living in Hawke"s Bay and he felt strong enough to go to Melbourne in 1888 to study at Scotch College. He hoped to go into teaching but his health would not allow it. He concentrated on writing and his first collection of poetry was published in 1894 under the title



Two years later a further two volumes were released, the titles being



Following his untimely death, two other collections were released.



was published in 1910 and



was seen the following year. Gay also wrote and published a prose essay called



which was issued in 1895. In collaboration with Mary Sampson he edited The Commonwealth & the Empire which was a strong indication that he was a supporter of the new Australian federation. Another collaboration was with fellow Scottish immigrant Charles Strong who published a periodical which was initially called Our Good Words but which later became the Australian Herald. Gay submitted articles to this paper.
He could best be described as a minor poet with limited appeal to the reading public. Had it not been for the generosity and help of friends and relatives, who helped with the publishing, it is possible that none of his work would have seen the light of day. His invalidity prevented him from going out and selling himself as a writer and he was extremely lucky that he was able to receive a great deal of help and support during the final months of his life.
Despite this though, Gay is remembered in his adopted country's literary history as a fine writer of sonnets and, according to some critics, they were among the best ever written by an Australian. He wrote without fear of displaying his own emotions and a fine example of this was a poignant poem, which is reproduced here: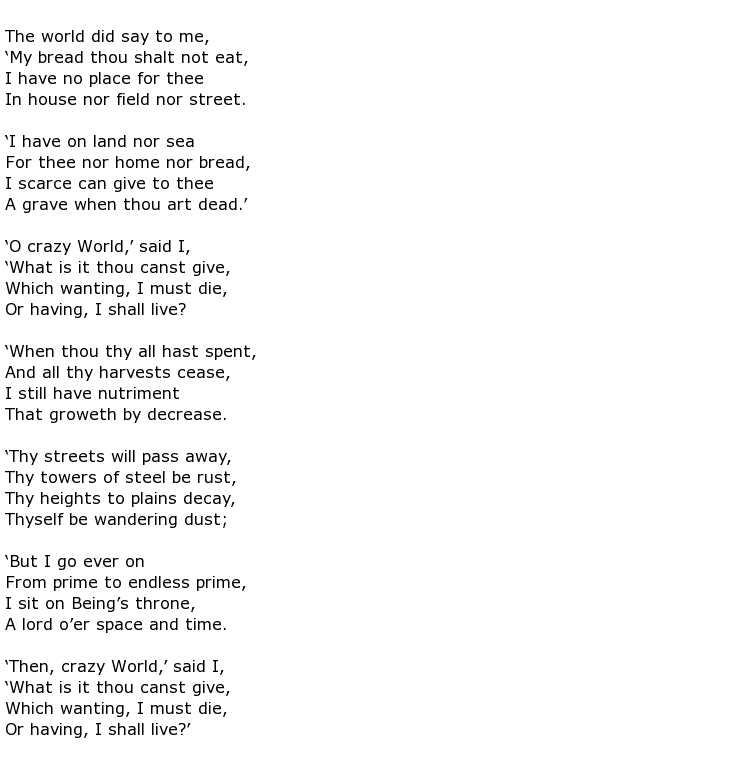 After living in various locations he settled in Bendigo around 1893 but his failing health soon caught up with him. William Gay died on the 22nd December 1897 at the young age of 32.