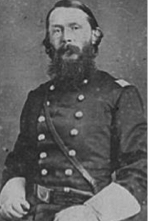 William Haines Lytle was a 19th century American poet, politician and soldier who saw distinguished service in both the Civil War and the Mexican-American War, reaching the rank of Brigadier-General. He lost his life to a Confederate army sniper bullet at the Battle of Chickamauga in Georgia.
He was born on the 2nd November 1826 in Cincinnati, Ohio. His family circumstances were comfortable and he was educated at the Cincinnati College. He had ambitions to become a lawyer at first and, having passed the bar examinations, he was able to set up a law practice. This work was interrupted for a time when he enlisted as a volunteer with the 2nd Ohio Volunteer Infantry. He was commissioned and served in the Mexican-American War, holding the rank of Captain. On his return he took up his law practice once more and then ran successfully for election to the Ohio State Legislature as a Democrat.
In 1860 he was hoping to gain election to the United States House of Representatives but failed in this quest. More military service followed soon after though as the country erupted into civil war. He had been busy as a poet leading up to this and one of his most famous pieces, Antony and Cleopatra, became a favourite in both north and south after its publication in 1857. It tells the story of the bravery of a Roman legionnaire in battle and was, perhaps, a premonition of his own death which would also come in the face of the enemy. Here are the opening and closing lines to this poem: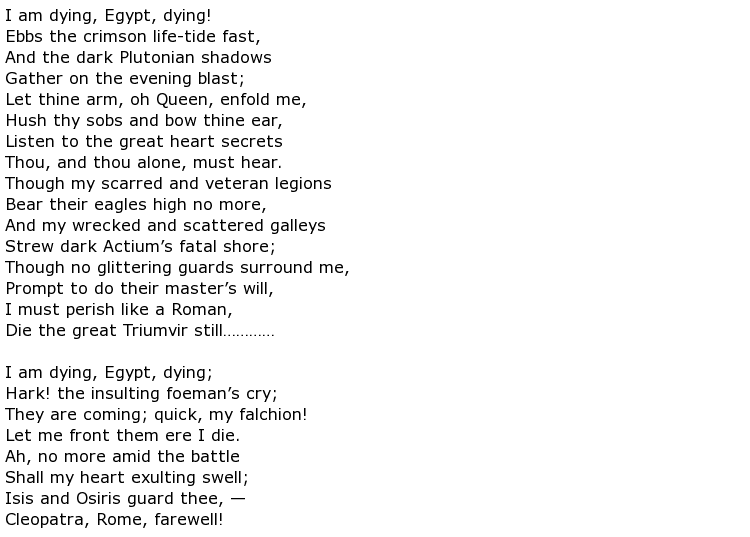 As the American Civil War began Lytle took up the call to arms, enlisting as a Colonel in the 10th Ohio Infantry. He led his brigade against the Confederates in the western area of Virginia, conducting a number of successful skirmishes. His service was interrupted though by a leg injury that caused his withdrawal from the field during September 1861. It took him four months to recover and he was keen to return to active service. Again this was interrupted, but this time due to his being taken prisoner at the Battle of Perryville in Kentucky in October 1862. He was able to return to his men having been part of a prisoner exchange and, over the next twelve months, he saw a great deal of distinguished service which led to the award of a jewelled Maltese Cross. Sadly he was mortally wounded a few days later.
Lytle wrote a good number of poems and they can be found in an anthology which was published in 1894 with the title Poems of William Haines Lytle. Along with the poem quoted above, other titles included The Volunteers, Song of the Ragged Attorney and Brigands Song. Understandably, much of his work covered military themes.
He would probably say that he had no time for marriage and, as a consequence, there were no direct descendants to continue the family line. The life of a serving soldier is inevitably fraught with danger and it seemed almost inevitable that he would lose it whilst on duty. He was, as ever, leading his men from the front when he was brought down by a sniper's bullet. It is testimony to the man that the enemy soldiers placed a guard around the body of the stricken Brigadier-General. He was highly regarded on both sides of the divide and it is believed that Confederate soldiers would gather around their camp fires while reciting Lytle's poetry.
William Haines Lytle died on the 20th September 1863 at the age of 36. He is still remembered to this day with parks and hills named after him and the most impressive monument in Spring Grove Cemetery, Cincinnati is the one that stands above his grave.