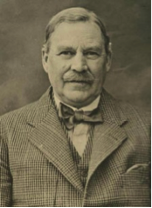 William Henry Ogilvie was a Scottish/Australian "bush ballad" poet and journalist, his name usually shortened to Will. He spent a good deal of time working in the outback as a drover where he became an expert horseman and horse breaker.
He was born on the 21st August 1869 close to the Scottish border town of Kelso in Roxburghshire. He came from a large family of eight children who lived in a comfortable family home called Holefield, part of an estate managed by father George Ogilvie who was carrying on a family tradition dating back some 300 years. William attended Kelso High School as a boarder where he kept his own pony. From here he went to Fettes College in Edinburgh where his love of poetry led to a prize for Latin verse. He was an excellent scholar and athlete. In 1888, at the conclusion of his studies, he went back home to Holefield.
Within a year he decided to emigrate to Australia although he would only remain there for twelve years. He came across the famous Harry "Breaker" Morant during his time working the sheep shearing stations of South Australia and the two became good friends. It was a hard life of course but he still found time to write poetry and much of it was of the lyrical, romantic variety. He wrote accurate descriptions of life in the outback and the people that he associated with, although he also wrote about England and Scotland, obviously harking back to his homeland.
His love of animals was clear, particularly dogs and horses, and there is evidence of this in a piece of work called



His work often displayed a wry sense of humour, a good example being The Stockyard Liar. This poem tells the tale of the old hands who hang around the horse breaking area. They sit in the sun, telling all and sundry of their exploits in the past, when they were young enough and fit enough to do the job, and doing it better than those doing it now. Here are the opening verses to this poem: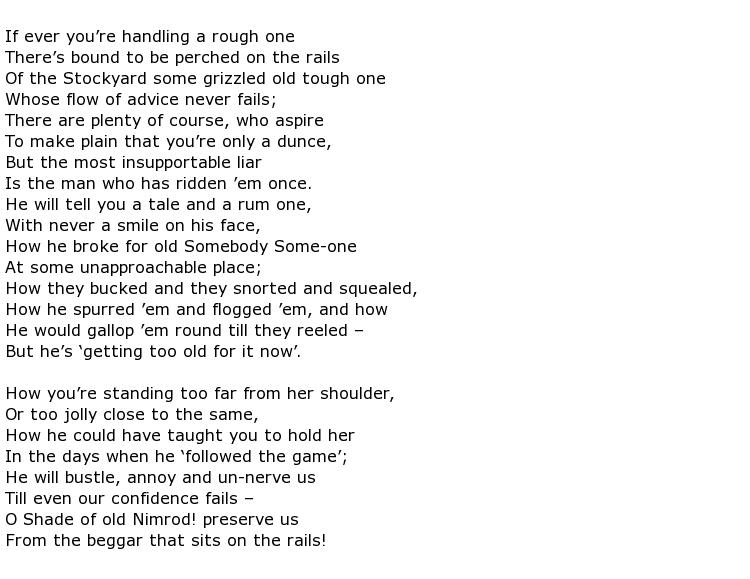 Ogilvie's father had encouraged him to go to Australia to sample the 'colonial experience' which would be of great benefit to him. He travelled the country, from Queensland to South Australia, enjoying the tough, outdoor life of the drover. In his account named My Life in the Open (published in London, 1910) he wrote that:



Much of his work first appeared in periodicals and newspapers such as the Bulletin, the Sydney Mail and the Weekly Times in Melbourne. Remarkably much of it was written whilst on the move, literally on horseback, while other pieces were scribbled on bits of paper as he sat in the shade of a gum tree, taking a break from his work. Perhaps the call of home overcame him eventually because, in 1901, he decided to return to Scotland. He lived the rest of his long life as a country gentleman and continued to write for a number of publications, on both sides of the world. His pieces appeared in London magazines like Punch and The Spectator while some were sent to Sydney for publication in the Bulletin.
Published works included Australian titles such as Hearts of Gold and Other Verses (1903) and The Australian and Other Verses (1916). He also had at least eighteen titles covering Scottish themes in verse and prose, examples being The Collected Sporting Verse of W. H. Ogilvie (London, 1932) and The Border Poems (London, 1959).
William Henry Ogilvie died in Scotland on the 30th January 1963 at the grand old age of 93. He was survived by his wife and two children.