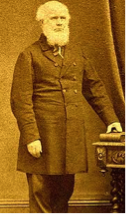 William Howitt was an English poet who also published books on the natural world, religion and history. His output was substantial, numbering over fifty titles on different subjects.
He was born on the 18th December 1792 in the small Derbyshire town of Heanor. As his parents were Quakers they sent him to the Friends public school in Ackworth, West Yorkshire. He was a keen observer of nature and, in 1814, he had a poem published called



Seven years later he married a fellow poet, called Mary Botham, and they produced a number of works together. Their first, the same year that they were married, was a collection under the title



From his Nottingham home, Howitt liked to study the changes of the seasons and of the natural phenomena that adapt to those seasons. In 1831 he published a book called



Two years later came his historical study of religion through the ages called 



and this won him great admiration from one of the major political parties of that day, the Liberals.
Four years on and the Howitts moved south, to Esher in Surrey. Friends there included the author Elizabeth Gaskell and her husband. When he wrote Colonisation and Christianity in 1838 it was the start of a period in his life spent writing about and living in other parts of Europe. Karl Marx would later quote from this work in his Capital, Volume 1. The couple were in Heidelberg in 1840 where they lived for two years. Howitt adopted a pseudonym (Dr Cornelius) when he produced a number of works on German institutions and social life, the first of which he called



Mrs Howitt had, herself, become a student of Scandinavian literature and she translated a number of works by the likes of Hans Christian Andersen. Another joint collaboration soon followed –



, published in 1852. That same year Howitt took two of his sons to the gold fields of Australia and, while there, he wrote extensively including



He was back in London within a couple of years and spent six years working on Cassel"s 


, following this with another joint project with his wife called the 



Although both had grown up in Quaker households, the Howitts turned to spiritualism and, in 1863, worked on a major study that was published under the title



Later though, following her husband's death, Mary converted to Catholicism. This was perhaps inspired by the fact that both spent their final years together in Italy, living in the Tyrolean region in the summer and Rome in winter.
One of the poems inspired by Howitt's interest in the natural world was an imagined two-handed conversation between the author and "summer". In it the author is asking the summer why it changes the landscape so dramatically during the hot months of the year. Here are the opening verses of Summer and the Poet: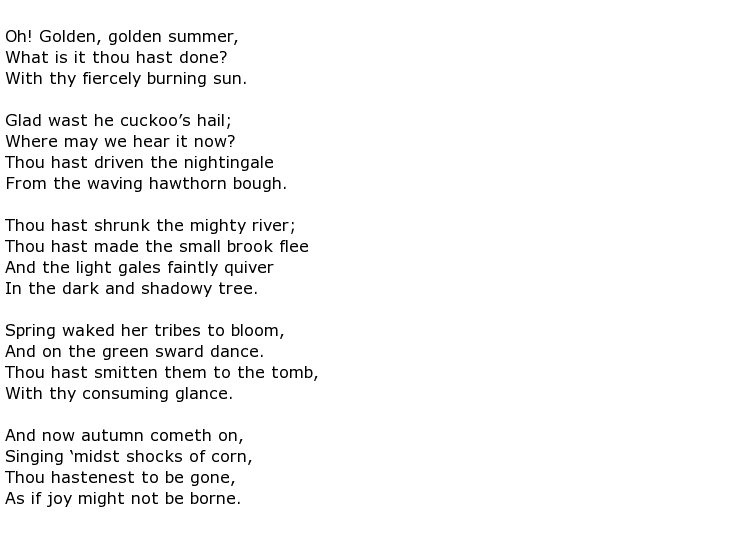 William Howitt died at his house in Rome on the 3rd March 1879, at the age of 86.