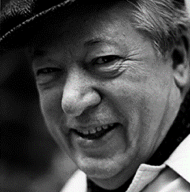 William Jay Smith was an US born lyric poet with a wide appeal across the generations, happily writing for both adults and children.  His long life spanned the 20th and 21st centuries and just fell short of the magical one hundred years.  Amongst his many honours and awards was the appointment in 1968 as the



– a position that he held for two years.  He was responsible for at least ten collections of poems and two of these were finalists in the National Book Award competition.
He was born on the 22nd April 1918 in Louisiana and spent his early years living at one of the oldest military barracks in the country, a place called Jefferson Barracks, which lies near St. Louis.  His father was an Army officer and he was a well-educated young man, gaining both Bachelors' and Masters' degrees in French literature at Washington University, St. Louis.  Here he came across and became good friends with other budding writers, a good example being Tennessee Williams.  He went on to continue his studies at Columbia University and then at Oxford under the overseas undergraduate scheme called the Rhodes Scholarship.
Smith followed an academic life as poet in residence and professor of English literature at a number of educational establishments in America, England and Italy.  His earlier spell in England will have given him a taste for travel and, when he married Barbara Howes in 1947, a fellow poet, they lived in both Italy and England for a while before going home.  This marriage lasted less than twenty years though, ending in divorce.  He also had homes in France and Massachusetts.
Coming from a military background it seemed inevitable that he would follow in his father's footsteps and, when the second world war broke out, he opted for service with the US Navy between the years 1941-45.  After that he returned to his literary and academic life with two collections of poems coming out in the next five years;



He soon developed a taste for the free verse style of writing although he did not limit himself to that, varying his presentation to suit his mood.  He was greatly influenced by the Modernist movement.
His poems for children were described as whimsical, or even nonsensical, with such titles as



He wrote a number of poems about different animals, all with short titles such as


Here is the one he wrote about the life of a polar bear, living his days on the cold ice floes with no warm blanket to keep him warm at night.  It is a clever way to describe to a child how such a creature survives such a harsh environment: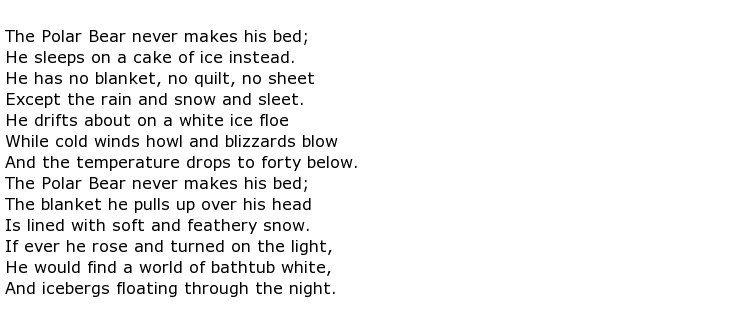 Smith was also a renowned translator of poetry written in a number of languages including Spanish and French, from poets such as Federico García Lorca and Valéry Larbaud.  His diverse writing career meant that he was responsible for at least fifty books, covering poetry, translated works and literary criticism.  His work received praise from all quarters and one critic described him as



William Jay Smith died on the 18th August 2015 in Pittsfield, Massachusetts at the grand old age of 97.