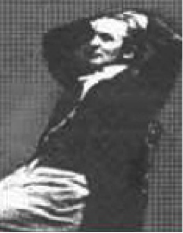 William Johnson Cory was a 19th century English poet whose most famous works were written in Latin. He was also a popular teacher at the famous Eton public school before being asked to resign in controversial circumstances after almost thirty years service.
Became into the world as William Johnson on the 9th January 1823 in the Devon village of Great Torrington. He was sent away to Eton to be educated where he was awarded what is considered to be the most prestigious prize awarded at any school – a prize named the Newcastle Scholarship. He then went on to King's College, Cambridge and more prizes came his way. In 1843 he won a medal for his poem about Plato and then, the following year, he obtained a Craven Scholarship.
Having done so well at Eton it was inevitable that he would be invited back to take up a post shortly after his graduation from Cambridge. During his long period of service as an Eton master he established a reputation as a wise and sympathetic tutor, prompting remarks such as that from G W Prothero, a historian who said that Cory was



Many students passed through his hands who would go on to become famous statesmen, examples being Arthur Balfour and Charles Wood, the 2nd Viscount Halifax.
He spent much of his spare time writing, particularly favouring Latin verse. His poem Heraclitus has appeared in a number of anthologies and became his best known piece of work. It is reproduced here:



Another notable piece was Ionica and literary critics generally agree that this work demonstrated that Cory had a



for this kind of poetry. Perhaps it was his love of ancient Greek and Latin classics that influenced his attitude to his young charges at Eton. It was never proved that Johnson, as he was known then, had ever behaved inappropriately with boys, but he did correspond in an indiscreet way with at least one pupil and this led to his resignation from teaching in 1872. The letter had been discovered by the boy's parents, and reported to the headmaster.
Many have said since that Johnson was only guilty of overly liberating the pupils in his charge and this would have been misinterpreted, and resented, by the school governors at that time. Alternatively, there were rumours afoot that he was a devoted paederast, and that he had an intimate relationship with the future Lord Esher, then known as Reginald Brett, but no hard evidence ever came to light to confirm or deny this. But ultimately, like the ancient Greek philosopher Socrates, Johnson was accused of corrupting the minds of his students, as Socrates had done with the youth of Athens.
On his retirement from teaching, Johnson began to call himself Cory and, in failing health, he decided to emigrate to the Atlantic island of Madeira in 1878. Here he got married and fathered a son. The family went back to England four years later, setting up their new home in Hampstead, north London. He spent the rest of his life writing.
A notable tribute was posthumously paid to him in 1924 when his former "paramour", Brett, published a book called Ionicus. It was a touching dedication to his former Eton master and a celebration of the poem Ionica. In the book Lord Esher points out that three future prime ministers (Rosebery, Balfour, and Asquith) were all able to learn



William Johnson Cory died in Hampstead on the 11th June 1892 at the age of 69.