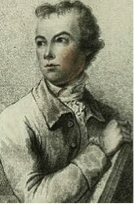 William Julius Mickle was an 18th century Scottish poet and translator.
He was born William Julius Meikle on the 29th September 1734 in Langholm, Dumfriesshire, which is now part of the region called Dumfries and Galloway in south west Scotland. His father was the Reverend Alexander Meikle, a minister at the parish church but, other than that, little is known of Mickle's early life. On the death of his parents he ended up in Edinburgh, being cared for by an aunt and attending a high school in the city. It seems that he developed a love of poetry from about the age of 13 when he discovered Spenser's Fairy Queen and it is believed that he styled his own early writing on it. By the time he was 18 he was already half way through the composition of an epic poem and had produced two tragic pieces along with other, shorter pieces of work.
He started his working life at an Edinburgh brewery, helping his aunt with the accounts, but soon moved south when the business got into difficulties. As a shareholder he was actually declared bankrupt in 1763 but did not wish to hang around to face his creditors. He then took up a position as a corrector with the Oxford Clarendon Press company. It was a fairly agreeable occupation which left him a reasonable amount of leisure time which he spent writing.
His literary efforts met with both success and failure in even measures but the piece of work that really brought him to the attention of the literary world was a translation of the Lusiad from Portuguese which first appeared in 1771. It was so successful that it was reissued eight years later. He wrote this while lodging at the manor house in Forest Hill, Oxfordshire and the work resulted in a significant boost to his finances, so much so that he was able to stop working at the Clarendon Press in order to devote himself to literary pursuits.
From around 1765 onwards Mickle was able to write and publish a number of short poems while occasionally writing religiously-themed pamphlets of a controversial nature, decrying the likes of Voltaire. One of his most famous pieces, written in Scottish dialect, was There"s nae luck aboot the Hoose, although other writers have laid claim to it. It's a fairly mournful tale about how a wife struggles when her man is away from home, at sea. Here are the opening two verses:


Following the release of new edition of The Lusiad, Mickle had a stroke of good fortune in that he was invited to sail to Portugal as secretary to the captain, a friend by the name of Johnston. When they landed at Lisbon he was warmly received and, over a period of six months, he set about learning as much as he could about the nature and customs of the people there.
On his return to England he married the daughter of his former landlord at Forest Hill in June 1782, and they set up home in the nearby village of Wheatley. He was now financially secure and spent the rest of his life at leisure, writing occasional pieces as he felt the urge.
William Julius Mickle died on the 28th October 1788 after a short illness, aged 54, and was buried in the Forest Hill churchyard.