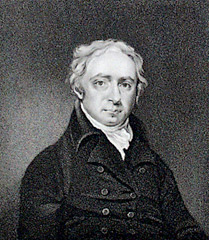 Born in 1762 in King's Sutton, Northamptonshire, William Lisle Bowles was a clergyman and poet who is most popularly remembered for his short collection of poems called Fourteen Sonnets. The son of a vicar and from a family that had to work hard to gather all their spare money to educate him, Bowles studied at Winchester College in his teens and then went on to take a degree at Oxford. Whilst at university, he showed a potential for poetry and won a prize for writing Latin verse.
In his youth, Bowles fell in love and wanted to marry but the relationship was blocked by both his parents. Dismayed at this outcome, Bowles took to traveling and spent time in the North of England and parts of Europe before he returned to continue his studies.
The clergy was a strong tradition in the Bowles family and it was no surprise that he followed them into service with the Church of England. For a while he took up the post of curate at Donhead St Andrew in the countryside of Wiltshire before gaining his ordination and taking on the role of vicar to Chicklade.
Over the years Bowles served as vicar in a number of parishes in the Wiltshire and Gloucestershire area, gradually rising up the ranks to become a prebendary and finally being made the Prince Regent's chaplain in 1818. Successful in his career as a vicar, Bowles wrote poetry largely as a diversion rather than to make a living as many of his peers had done.
His first major work to be published was Fourteen Sonnets which he wrote in his thirties and received good reviews from contemporaries such as Wordsworth and Coleridge. Compared to the verse that was being written at the time, Bowles' work harked back to older times and championed life, beauty and nature in all its simplicity.

It is often thought that Bowles was a competent poet and that his early work showed genuine promise but that he was a writer who believed verse should be used to extol the beauty we find in nature rather than for any higher kind of thinking. He was supported by a few critics of the time but many considered that poetry in general had moved on and new forms and ideas were already being explored.
Bowles wrote a number of longer works including The Spirit of Discovery in 1804 and The Grave of the Last Saxon almost twenty years later. His longer poems are not generally considered to be his best and not many of them have the power and imagery that some of his peers were producing at the time.

Bowles passed away in 1850 at the age of 87 and a collection of his full works was published by his friend George Gilfillan in two large volumes a few years after his death.