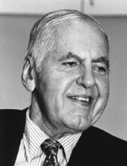 William Meredith was an American poet, journalist, wartime fighter pilot and professor of English at a number of educational establishments.  His great literary achievements won him a number of honours and awards including being appointed his country's Poet Laureate Consultant in Poetry to the Library of Congress in 1978, serving in this post for two years.  Unusually, he was the first gay poet to receive this honour.
He was born William Morris Meredith Jr. on the 9th January 1919 in New York City.  He graduated from the Lenox School, Massachusetts in 1936 and then went on to study at Princeton University.  Four years later his senior thesis on the poet Robert Frost earned him a magna cum laude degree which meant that he graduated "with great honour".
He had clear ambitions to become a poet himself but it took until 1944 for his first collection to be published, titled Love Letter from an Impossible Land.  It was considered to be a worthy first effort for a new poet and was entered into the annual Yale Series of Younger Poets competition.  The Second World War had interrupted his budding career with the New York Times and he enlisted firstly into the United States Army Air Force (in 1941) but then transferred a year later to the United States Navy where he served overseas flying aircraft from carriers.  Unlike many he retained an interest in the military life following the end of the war.  He served in Korea in the 1950s and, reaching the rank of Lieutenant Commander, he won two Air Medals.
In between the two wars though Meredith taught at Princeton, specialising in creative writing, and then went on to be an associate professor at the University of Hawaii between 1950–51.  Post-Korean war he returned to the United States to take up the post of associate professor of English at Connecticut College, becoming a professor two years later, and remaining there until 1983.  Away from academic life he settled happily to the rural life on a farm in Uncasville where he planted rare trees in between furthering his writing career.
Here is an extract from one of his earlier poems;  one that provided the title for his first collection.  Love Letter from an Impossible Land is clearly a heartfelt message to a serviceman's sweetheart back home not to forget him and to wait for his return once hostilities are done.  It describes the wonders of lands in the Pacific region, beautiful to see but also terrifying, as this is where the enemy are waging war against Allied forces.  Here are the first few verses of the poem: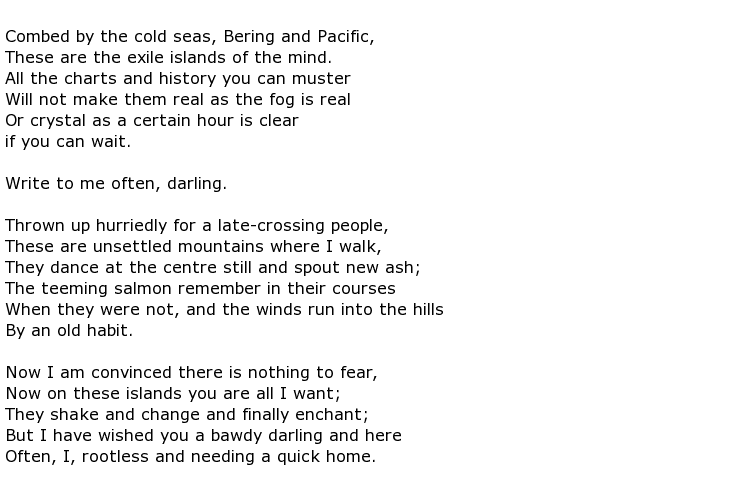 Despite a busy life on the farm he also found the time to continue his teaching, this time at a the school of English at Middlebury College in Vermont.  Tragically though all this ended when he suffered a stroke in 1983, rendering him unable to write or speak for at least two years.  He travelled to Britain for specialist treatment and made a good recovery.  Five years after this event Meredith won the Pulitzer Prize for a book called Partial Accounts: New and Selected Poems and, recalling his struggles with regaining the language skills temporarily lost, he wrote Effort at Speech which won him the National Book Award for Poetry in 1997.  Many other literary honours and awards came his way.
He was a life-long admirer of William Butler Yeats and he achieved his ambition of visiting Ireland to see Yeats's home town of Sligo in 2006.  Unfortunately this would be his last overseas trip as he died the following year.
William Meredith died on the 30th May 2007 at the age of 88.  He had lived in Montville, Connecticut with his partner Richard Harteis, who was also a poet, for the previous 36 years.