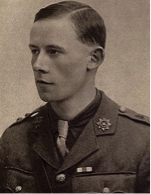 There are a number of well-known English poets who wrote about the First World War, many of whom were on the battle fields of northern France when they did so. Lieutenant William Noel Hodgson, MC was one of their number. What makes him stand out though is that he wrote a poem that was published just two days before he became one of the countless victims of the bloody Battle of the Somme. It is almost as if he had a premonition that his time was almost up as the chilling words of the last line of the poem read "Help me to die, O Lord". His poetry during the war was published in various publications using the pen name Edward Melbourne.
William was born on the 3rd January 1893 in Thornbury which is not far from the city of Bristol. His father was an Anglican Bishop and the family moved north to live in the Scottish border town of Berwick upon Tweed. When old enough, William began his education at Durham School and he excelled in just about everything he did there. He was a great sportsman, particularly in rowing, rugby and horsemanship. He won a place as an exhibitioner at Christ Church College, Oxford and continued to shine in this environment as well. His first class degree in Classical Moderations, gained in March 1913, convinced him that he should continue his studies at Oxford but the outbreak of the war changed all that, as it did for thousands of other young men.
He enlisted into the Devonshire Regiment at the beginning of hostilities but it would be more than a year before he saw the trenches in France. He soon distinguished himself as an inexperienced 2nd Lieutenant when, during the Battle of Loos in September 1915, he took part in the capture of an enemy trench and held it without support for some time. For this he was mentioned in despatches, promoted and subsequently awarded the coveted Military Cross.
He enjoyed a short spell back in England after this before, once more, being sent back to the front for what turned out to be his last posting. With his battalion he was near the northern French town of Mametz as the terrible, infamous Battle of the Somme was about to get under way. On the very first day he and his men were attacking German trenches and Hodgson was attempting to get grenades to his comrades. Machine-gun fire cut him down, killing him instantly. He became one of the many talented young men who gave their lives for their country, in his case after serving for only a few months on the battlefields.
It is believed that Hodgson began writing poetry and short stories in 1913 and many were published in a variety of periodicals. After his death though a compilation of his work was published in 1917, under the title Verse and Prose in Peace and War'. It sold so well that the London publisher issued three separate editions of the book. The poem that he will best be remembered for is Before Action, a poignant piece of work published only two days before he fell. Here is the poem: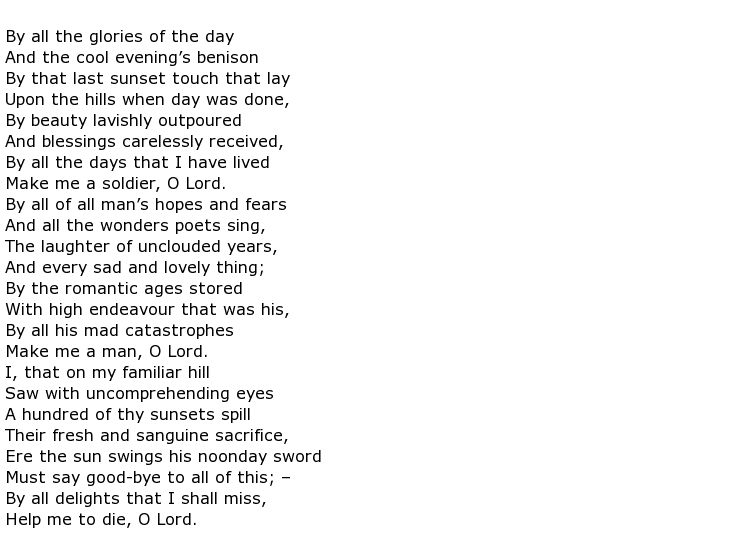 William Noel Hodgson died on the 1st July 1916, aged only 23.