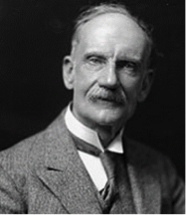 William Pember Reeves was a New Zealand-born poet, historian, journalist, lawyer and social reforming politician who spent much of his later life living in England.
He was born on the 10th February 1857 in Christchurch, only a matter of weeks after his parents had arrived on their arduous sea voyage from England. They sent young William to prep school in Christchurch and he then attended the Presbyterian high school before going on Christ"s College Grammar School between 1867 and 1874. They were not happy school days even though he did well as a student. He was unpopular and suffered occasional bullying but he won a scholarship for university to study the Classics, modern languages, English literature and history.
It seems that he was uncertain which career path to take, his early years spent as a lawyer and newspaper editor. He worked on both the Canterbury Times, in 1885, and then the Lyttelton Times for two years from 1889. Reeves saw himself as a politician above all else and he was elected to Parliament in 1887, representing first the electorate of St Albans and then Christchurch. He resigned from the latter seat to take up the post of Agent General in 1896. Over a period of fifteen years he was appointed to several ministerial positions including Minster of Education and Minister of Justice. There was an element of controversy in his tenure as Minister of Labour when he tried to get a bill passed that would prohibit poor and Asian immigrants from entering the country. He called them "undesirables" and this led to him being known as "Undesirable Bill" Reeves.
Reeves's writing output was probably most influenced by a period spent in England around the turn of the century. In London he enjoyed the company of noted literary figures and left wing intellectual members of the Fabian Society such as H G Wells and George Bernard Shaw. Before this though he had some work published, around 1889, in a literary magazine called Zealandia. Some of this was poetry but he also contributed short stories. He collaborated with another writer by the name of G P Williams to publish two titles. The first was Colonial couplets: being poems in partnership and this sold very well. Thus encouraged, the two men got together once more to produce, In double harness, published in 1891.
Reeves wrote a number of poems including A Colonist in his Garden and The Passing of the Forest along with socially aware pieces such as his account of the history of New Zealand (The Long White Cloud, published in 1898) and State Experiments in Australia and New Zealand (1902).
Reeves was clearly a patriotic man, as evidenced in other pieces of work like the stirring poem simply called New Zealand. Here are the opening verses to this poem:


He certainly made an impact in public life, both at home and during his time in England where he represented the interests of New Zealand with a great deal of expertise. He filled a number of prominent appointments such as Director of the London School of Economics (1908–19) and chairman of the board of the National Bank of New Zealand (1917-31). It is believed that he was put up for a knighthood twice, but on each occasion he turned it down. He also declined the offer of a GCMG.
William Pember Reeves died at his home in London on the 15th May 1932 at the age of 75.