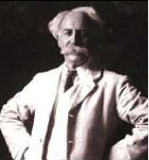 William Percy French was an Irish poet, song writer and watercolour artist. He is best known for his jaunty songs, the most famous probably being Abdul Abulbul Amir. He performed many of them himself on the stage, thus making him one of the most popular entertainers of the late 19th century.
He was born on the 1st May 1854 at Cloonyquin House which is near the village of Tulsk, County Roscommon. His father was an Anglo-Irish landlord. His education took place at Foyle College, County Londonderry and then Trinity College, Dublin. It was here that he first started writing poetry and songs but his naivety led to his being cheated by a publisher in 1877. He sold the song Abdul Abulbul Amir for £5 but, of course, it went on to make a great deal more than that, and others claimed ownership of it.
His primary studies at Trinity College were in civil engineering and he was able to take up an appointment in 1881 as Inspector of Drains for the County Cavan Board of Works. French continued to write though, and he also produced a number of water colours, usually favouring landscape scenes. These eventually became very popular and many art lovers were pleased to have his work in their collections. He briefly took up journalism with a weekly humorous paper called The Jarvey but this was short-lived and, following the paper's collapse, he decided to become a full-time song writer and stage performer.
French had a talent for writing songs of a comic nature and his song Are Ye Right There Michael, a parody of the railway system in County Clare, landed him in hot water, but he survived a libel action taken against him. Perhaps the case was doomed to fail because, on his late arrival at court for the hearing, he apologised but excused his lateness with the statement "Your honour, I travelled by the West Clare Railway". The judge immediately threw the case out!
Other titles included The Mountains of Mourne and Phil the Fluther's Ball. His best-known piece though is undoubtedly Abdul Abulbul Amir which was written at the time of the Russo-Turkish war. It tells the amusing tale of a Russian soldier named Ivan Skavinsky Skavar who somehow ended up fighting the Turk named in the title of the song, and they killed each other. An unscrupulous publisher bought the song for a decent price but failed to copyright it so French lost out on a great deal of money in future royalties.
Here are the opening verses of the poem: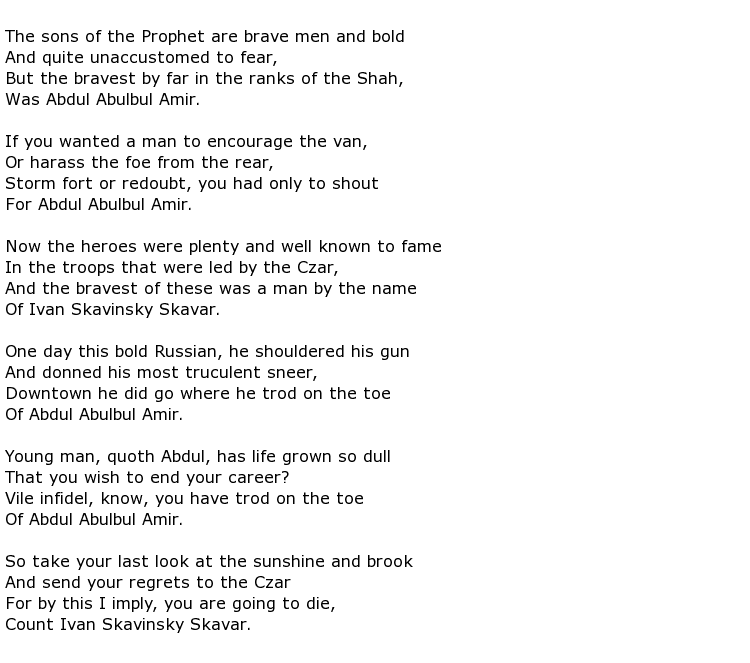 Abdul Abulbul Amir was sung over and over and still remains popular to this day. Many variations and sequels have been written, including a ribald version which was adopted by rugby clubs. In this version the thrust of the song was changed to a situation where the two protagonists compete with each other in a travelling brothel, the winner being the one who can service the greater number of prostitutes on offer.
On a much more cerebral level, French collaborated with his friend William Houston Collisson to write operas during the early 1890s and two were performed under the titles The Knight of the Road, later renamed The Irish Girl nearly thirty years later, and Strongbow (1892). Paintings produced by French gradually grew in appeal and, in recent years, a piece called



went at auction for the princely sum of €44,000.
As well as being a prolific writer, he loved to perform and toured the country appearing in revues. Unfortunately, while on stage in Glasgow in 1920, he became ill and this led to pneumonia. He was taken to the home of a cousin in Formby, Lancashire, where he spent his last days.
William Percy French died on the 24th January 1920 at the age of 65.