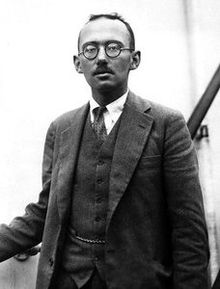 Born in 1886 in Brooklyn, New York, William Rose Benet was a poet and writer who is probably best known for founding the magazine The Saturday Review of Literature. The son of an army colonel, Benet spent most of his youth growing up in Bethlehem in Pennsylvania before being sent back to New York to study at the the Albany Academy.
Benet proved to be a reasonably gifted student with a head for sciences and he earned a place at Yale University where he studied at the Sheffield Scientific School. At university his interest in writing grew and he became an editor for the student magazine also providing his own humorous poems and articles as content.
In 1924, he founded the Saturday Review of Literature which he would help to edit right up until his death in 1950. At the height of its powers, the Review was seen as very influential and was read by many of the notable critics of the day including Wilder Hobson who edited Time in the 1930s and 40s.

Benet published his first collection of poetry in 1913 entitled Merchants of Cathay but it was his 1941 work The Dust Which is God which earned him the Pulitzer Prize for Poetry. Other works included Mad Blake which was published in 1937 and The Stairway of Surprise which came out a few years before his death.
During his lifetime, Benet was married no less than four times including to poet Elinor Wylie who was one of the most popular writers of the 20s and 30s in America. Nowadays, Benet is generally more well-known for his poem The Skater of the Ghost Lake, a mystery that is still used in schools to illustrate the utilization of onomatopoeia.

In addition to his poetry, Benet produced the reference guide The Reader's Encyclopaedia in 1948 which was designed to help people get more out of literary works and also allow them to develop their own writing style. For some of his time living in New Hampshire he took an active part in the McDowell Colony which was created in 1907 and included artists such as Helen and Mary Mead.
Benet moved to New York City in later life and died there in 1950 at the age of 64.