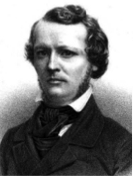 William Ross Wallace was a 19th century American poet and lawyer of Scottish origins who, during the 1860s, produced a piece of work called



This was the poem that made his name and it is still well known today. The story which sings the praises of motherhood was adapted for a Hollywood movie in 1992 starring Rebecca de Mornay.
He was born some time during the year 1819 in Lexington, Kentucky. He lost his father while still an infant but his mother was able to get him a decent education. He attended the Indiana University and Hanover College, Indiana, and then went on to study law in Lexington, Kentucky.  He worked in a law practice following a move to New York City in 1841 although he also had ambitions to be a writer. In fact, the majority of his writing was done while residing in the city. He submitted work for publication in the Union Magazine and he first came to prominence with a piece called Perdita.
Over the next twenty five years or so he had a number of other titles published including a romantic poem called Alban but it was perhaps his fiercely patriotic pieces that brought him most fame. Good examples are The Sword of Bunker Hill (1861), a poem that was set to music and became a national hymn, and The Liberty Bell, published the following year. Then, in 1865, came his best work yet:



Wallace was in great demand when it came to publishing his work in magazines and he contributed to a number of them, including Harper"s Magazine and Harper"s Weekly, the New York Ledger and Godey"s Lady"s Book. The romantic poet William Cullen Bryant was an admirer of his work and said that his poems



Wallace had many friends in American literary society and one of them, Edgar Allan Poe, called him



While he may have garnered much praise and respect during the mid-19th century, especially amongst fellow poets, Wallace is not especially popular today.
It can be said with certainty that he wrote about strong, patriotic themes and there is much evidence of his enthusiasm, bordering on mythical reverence, for all things concerning George Washington and the American Revolution. His popularity at the time will have almost certainly been attributable to the fact that he tapped in to the American psyche, in that most people were feeling as patriotic about their country as he was. During the Civil War he wrote poetry that was openly supportive of the Union side and the soldiers loved his work.
Perhaps though he had an over-idealised view of the revolution, calling it an "era sublime", conveniently glossing over the horrors and the privations that the people suffered. His poem, The Liberty Bell, was a real tub-thumping piece, referring to the bell that was rung on the 4th July 1776, ringing out freedom from the colonial rulers. Here are the closing lines to this poem: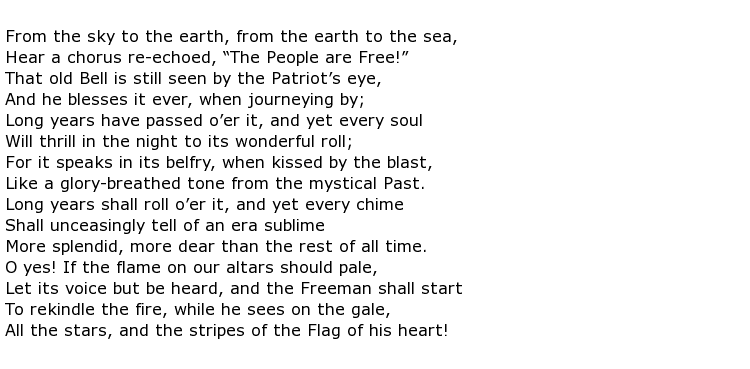 William Ross Wallace suffered a stroke and died on the 5th May 1881 at his New York City home, at the age of 62. He was still writing right up to the end.