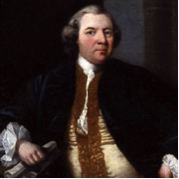 William Shenstone was an 18th century British poet and landscape gardener.   He can be recalled alongside the famous Capability Brown as one of the first landscape gardeners, with Shenstone being responsible for significant work that was carried out at his estate near Halesowen, The Leasowes, which lies in England's West Midlands.
He was born on the 18th November 1714 at Leasowes into very comfortable circumstances. His early education was taken at a local grammar school, which is now known as the Earls High School and then Solihull School where he first encountered Richard Jago, who also went on to be poet and landscape gardener, and a lifelong friend. He also found friendship at Pembroke College with another future writer by the name of Richard Graves.
Shenstone went through Oxford without achieving a degree but the seeds of his writing career were sown here with the publication of



He had not intended that this book would be distributed beyond his immediate circle of friends and family but one poem in particular, The Schoolmistress, attracted much attention. It was revised, and retitled



in 1742. It is believed that the inspiration for this poem was his first village school teacher, Sarah Lloyd. Here is an extract from this long poem: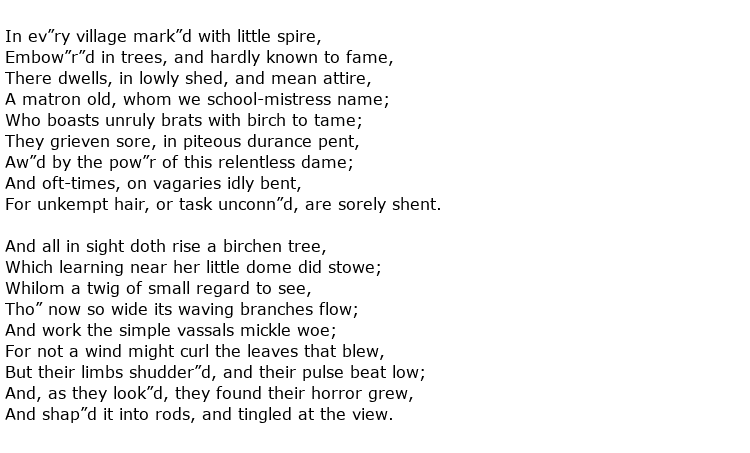 The previous year he published another long piece called



and, while his output of poetry was considerable, Shenstone always lamented that his work had not received greater recognition than it did. His style was perhaps a little too high-brow for some and he wrote many elegies. Eventually his writing took second place when, in 1745, he came into his inheritance – the Leasowes estate – and gave his full attention to the design and development of its elaborate gardens.
His horticultural work eventually attracted great attention but these grand designs left Shenstone severely impoverished. This did not slow him down though and he put more and more effort into the estate, constantly hoping for the kind of recognition that Capability Brown was enjoying.
His poetry may not have been universally appreciated by the reading public but he certainly had admirers amongst other writers. Robert Burns, for example, described him as



Not all of his material was of a religiously themed nature, with many poems glorifying the natural world and he, most certainly, was able to demonstrate good levels of technical expertise in his poetic construction. A good example was his ability to master the anapaestic trimeter in such works as



written in 1743. This, along with other works, was published by Robert Dodsley, a good friend of Shenstone, who published three volumes of work including poetry and descriptions of the gardens at Leasowes.
His name lives on outside of literary circles. Examples are houses named after him at both of the schools that he attended and a public house in Halesowen bears the name "The William Shenstone" above its door.
William Shenstone never married and he died at home on the 11th February 1763, at the relatively young age of 48.