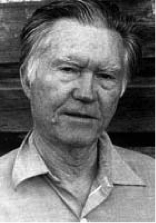 William Stafford was a much-published writer who grew up in America's mid-West at the time of the Depression.  He was a well-educated man who came relatively late to further education which was interrupted when the United States joined the Second World War.  Stafford, though, was a dedicated pacifist and spent the war years working on special camps for conscientious objectors.  Following this he completed his master's degree and went on to publish some sixty five books – a mixture of poetry and prose.
He was born William Edgar Stafford in a small town call Hutchinson in Kansas in January 1914.  His childhood was hard for his family who had to keep moving in search of employment.  The young William did his bit to supplement the family income doing a number of part time jobs including working in the sugar beet fields and as an electrician's mate, while at the same time trying to get himself an education.  He managed to get through high school and junior colleges and followed this with spells at the Universities of Kansas and Wisconsin.  It had been his plan to gain a master's degree in English at Kansas but war broke out and the studies were put on hold.
He was drafted to work in the camps mentioned above in 1942 and was kept at it until 1946, moving around the states of Arkansas, California and Illinois.  He met his wife Dorothy while working in California and they married in 1944.  She was the daughter of a Brethren Church minister and this perhaps had some influence on William's immediate post-war work.  He taught at high school and also joined a relief organisation called the Church World Service.  His priority though was to finish his master's and this he did at the University of Kansas in 1947.  A book came out of his thesis called Down in My Heart, published the same year that he graduated.  It was an in depth account of his experiences during the war as a conscientious objector.
He was writing regularly, having been instilled with a love of literature and reading from a very young age but, in 1948, he took up a teaching post at a college in Oregon and remained in the post until his retirement in 1980.  In between college semesters he managed to travel extensively and it was relatively late in his life – at the age of 48 – that he had his first collection of poems published.  Travelling Through the Dark won a National Book Award a year after publication and more honours and awards followed.  He won a Guggenheim Fellowship and a Western States Lifetime Achievement Award in Poetry.  Only 8 years after publishing his first poetry collection he served as Poet Laureate which was a startling recognition of the high regard in which is poems were held.
Stafford often credited his parents and his upbringing as strong influences on his style of poetry.  It is, on first examination, a simple style but have deeper layers of complexity the further you dig down into them.  He had a great love of nature and a high regard for the people of the mid-West where he grew up.  One of his best known books is called An Oregon Message (published 1987), a retrospective of the many years spent in that state.  Here is the title poem: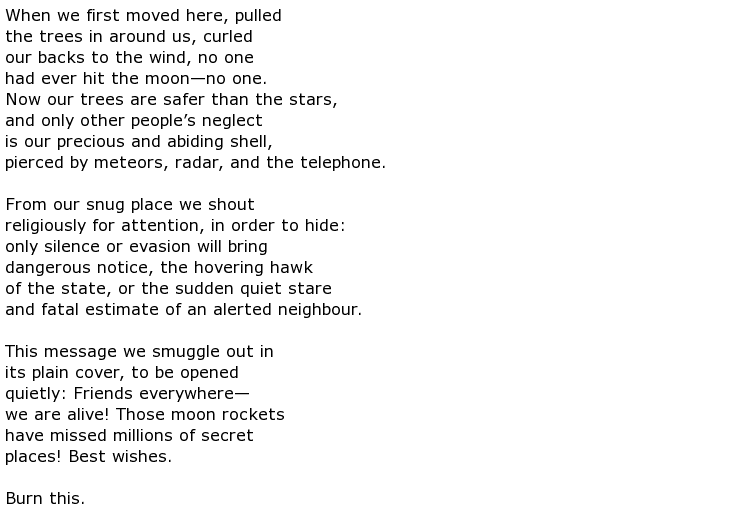 William Stafford was 79 years old when he suffered a heart attack and died in August 1993 at his home in Lake Oswego, Oregon.  Even on the morning of his death he had been writing and penned these poignant lines: