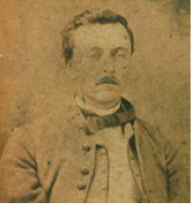 Colonel William Stewart Hawkins was an American Confederate soldier poet of the Civil War era whose life was tragically cut short soon after being released from captivity. While he was incarcerated he wrote about the suffering of the men in his charge, for they had elected him their leader and representative. He wrote at least two poems of great poignancy at this time, the best known being The Bonnie White Flag and Your Letter, Lady, Came Too Late.
He was born on the 2nd October 1837 in Madison County, Alabama. His father died when he was only ten years old but such family difficulties did not prevent him from getting a good education. He studied literature and poetry at the University of Nashville and then at Bethany College, West Virginia.  He obtained a degree at the age of 21 and his first intention was to become a lawyer. Things were going well and he was also distinguishing himself as a public speaker but then war broke out and he found himself in the cavalry, serving with the 11th Tennessee Battalion.
Hawkins gave exemplary service, holding the rank of Colonel, and one of his finest hours was at the Battle of Shiloh. Unfortunately his military career was halted when, in January 1864, enemy forces took him prisoner and he spent the rest of the war at a prison called Camp Chase which was close to Columbus, Ohio. He saw great suffering here and was often seen in the camp hospital helping wounded soldiers and one inspired him to write the famous poem Your Letter, Lady, Came Too Late.
Hawkins had befriended a mortally wounded young soldier called DeMovile who was distressed about not receiving letters from his sweetheart back home. The colonel tried to soothe the young man's mental anguish by talking to him, and listened to the soldier's life story. As time went by it became obvious that letters from his "Magdalene" were never going to come but then, ironically, a letter arrived the day after the soldier's death. Hawkins read it and was glad that DeMovile had been spared its contents as it was a letter telling of the ending of their relationship and the forming of a new one. Furthermore it was a letter of reproach to him for being so dedicated to the military cause instead of being with her.
The letter inspired Hawkins to write the poem about this sad affair, effectively a letter in verse form to the woman who had let a dying soldier cling to the hope that he still had someone back home to live for. Here are the opening verses: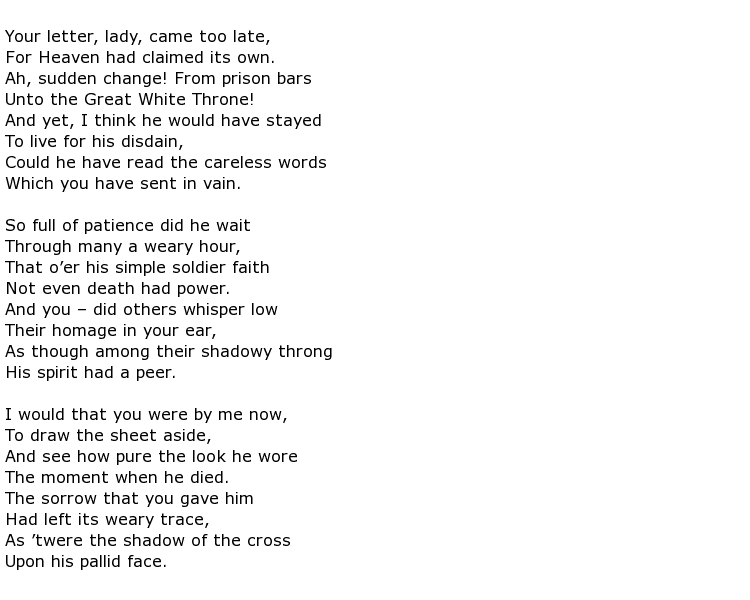 Hawkins wrote other poems that appeared in the camp newspaper (the Camp Chase Ventilator) and the southern force prisoners took his The Bonnie White Flag to their hearts and the words were set to music and sung within the prison. His literary talent was appreciated along with his compassion and willingness to teach and inspire fellow prisoners.
Once the war was over all the surviving men were released but Colonel Hawkins died shortly afterwards. Perhaps conditions endured in the camp contributed to it but there is no doubt that his death came tragically early. It was, naturally, a harsh environment, and those who survived it did so largely because of help provided from those outside who donated warm clothing or food to sustain the men. Some of his poetry was published after his death, including some lesser known pieces which appeared in the Filson's Tucker collection. There was one poignant poem called The Captive's Letter which was addressed to his long-time sweetheart Lucy Tucker. It included the following lines:
Colonel William Stewart Hawkins died on the 6th November 1865 at the age of 28.