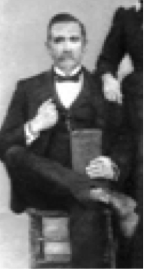 The English-born, Australian writer, usually known by his initials, rather than his Christian name William, began his literary career as a journalist on the North Sydney Tribune, a weekly paper. He subsequently worked for a number of other publications while writing a great deal of "bush" poetry along the way.
He was born William Thomas Goodge on the 28th September 1862 in London. He was the son of an innkeeper who failed at the business, forcing his son to take odd jobs from a very young age. He managed to secure a position with a shipping company as a junior steward and, on one trip to Australia during 1882, he jumped ship at Sydney and decided to stay on. He soon found employment in the city but decided to venture out, working as a rural labourer wherever he could find it. He gathered a good number of stories about life in the outback but it seems, according to his widow some years after his death, that much of it came from men he had met, rather than him his own personal experiences, so eloquently described in verse.
Whether or not Goodge really did experience the bush life that he describes is open to conjecture but his verse most certainly drew accurately on the characters and situations that would have been found in late 19th century Australia. He used humour and wrote in the vernacular style that bushmen would have spoken in. Critics considered him to be more of a "journalist-troubadour" than a serious poet but his work did bear some comparison with other bush balladeers of the time. Examples might be Henry Lawson and A B Paterson, although his work would probably not be of their standard. However, the poet and journalist Kenneth Slessor wrote (much later on) in generous terms about Goodge's work, considering him to be one of the "deftest craftsman" of those amongst his peers who were writing in that style.
Here is a typical example of his work. It's a light hearted look at how the Australian bushmen might speak amongst themselves. No doubt he will have heard such expressions, and perhaps spoke this way himself when in their company. The opening verses of a quirky little poem called The Australian Slanguage are reproduced here: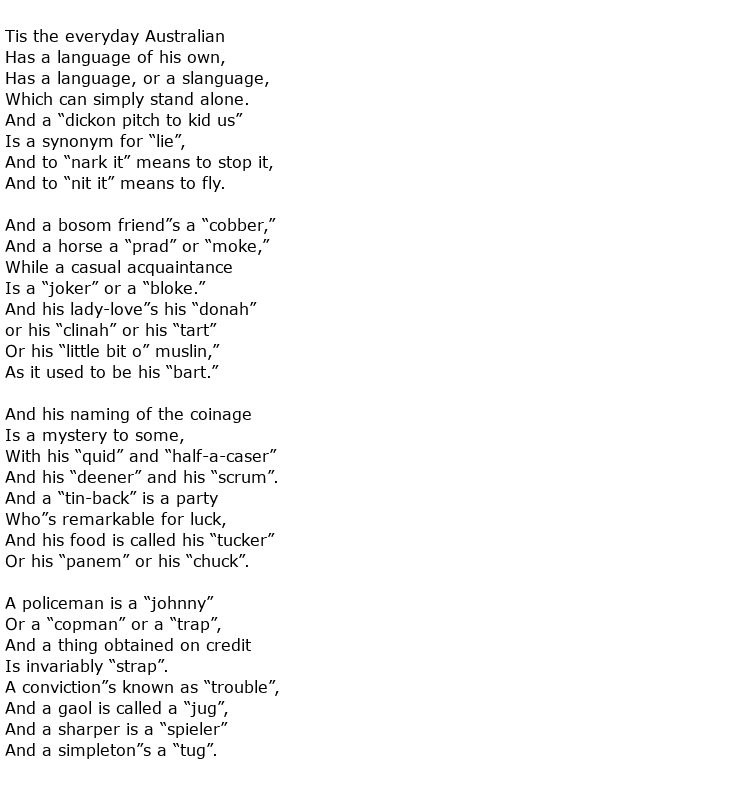 Apart from his poetry he wrote a novel called The Fortunes of Fenchurch, although this was never published in book form, only appearing in The Sunday Times as a long-running serial. The bulk of his literary output consisted of short stories and light, humorous verse. Probably his most famous piece was a witty poem called The Great Australian Adjective which was published in the Christmas 1897 issue of The Bulletin. He had only one collection of poems published which came out under the title Hits! Skits! and Jingles!, including the aforementioned poem and others such as Ode to the Frying Pan and The Ozzlum Bird.
He spent the last years of his life writing for a number of magazines and newspapers until his sudden death in 1909.
W T Goodge died on the 28th November 1909 in North Sydney, at the age of 47.