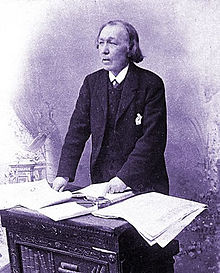 Born in 1825, William McGonagall was a Scottish poet and actor who is largely accused of writing some of the worst doggerel poetry of all time, including his most famous work The Tay Bridge Disaster. Though he often failed to appreciate the fundamental building blocks of poetry, much of his later popularity came from the humor that his poor writing seemed to generate with the reader.
McGonagall often said that he was born in Edinburgh but his parents were both Irish and it is possible that the child was born in Ireland before they all moved to Scotland. Largely self-educated he moved to Dundee in his teens and became an apprentice weaver, the same job his father had performed for most of his days. Much of his early life is open to conjecture as McGonagall wrote a lengthy autobiography which was no doubt embellished to show him in a more favorable light.
He prospered for a while as a weaver and married Jean King in 1846 with whom he would have 7 children. It was about this time that he was drawn to acting, paying to play the lead role of Macbeth at Mr Giles' Theatre. McGonagall gave a hint of his own self-importance by steadfastly refusing to die at the end of the play.

With the rise and rise of the industrial revolution, work as a weaver became increasingly scarce and by the 1870s, he and his family were struggling to survive. In 1877, though, he suddenly decided that he was a poet and could earn a living as such. Shortly after, he wrote his first ill-conceived poem, An Address to the Rev. George Gilfillan, which elicited the double-edged response that Shakespeare had never written anything like that.
In order to make his career as a poet work, McGonagall realized he needed to find some form of patron and even wrote, unsuccessfully, to Queen Victoria. Undeterred, he walked over 80 miles in the hope of appearing in front of Her Majesty in person but was turned away by the guards. He was an advocate of moderation and annoyed many of those who took to excessive indulgence such as drinking, often performing his poems live in pubs, much to the chagrin of the local patrons.
Struggling financially, he often depended on friends to support him, especially when he embarked on ill-advised and unsuccessful trips to both London and New York. He did, however, find some employment in a circus where passers-by were allowed to throw eggs and rotten vegetables at him as he recited his verses. When the local authorities put a stop to this practice, McGonagall wrote an inflammatory piece called Lines in Protest to the Dundee Magistrates.

His friends once again helped fund his publication of Poetic Gems which actually sold reasonably well and provided him with a living for a while. By 1895 he had moved to Edinburgh and, for a short while, was became something of a cult figure. However, his health began to fail and the money stopped coming in, leaving him destitute. McGonagall died without a penny in 1902 and was buried in an unmarked grave.