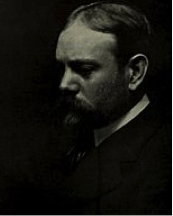 William Vaughn Moody was an American poet, playwright and teacher of English. His life spanned the end of the 19th and beginning of the 20th century and his poetry reflected the changing face of literature at that time, beginning with the traditional styles of old and evolving into the experimental forms of the new century. He taught at Harvard and Radcliffe universities and was assistant professor of English at Chicago between 1901 and 1907.
He was born on the 8th July 1869 in Spencer, Indiana but was orphaned as a teenager. His lost both parents within two years, between 1884 and 1886, and he was deeply affected by their loss. His mother had instilled within him a love of literature and, as he grew up in New Albany, he was soon writing his first poems. Life was hard though and he had to support himself through his later school and college years, doing some tutoring while carrying on with his own studies. From high school in New Albany he won a scholarship to study at Harvard where he was awarded a prize for literature. He graduated with a Bachelors' degree in 1893 and followed this with his Masters' one year later. In 1908 he became a Doctor of Letters at Yale and was elected to the American Academy of Arts and Letters.
It was at Harvard where Moody's love of literature really took hold and he made many contributions to college magazines while associating with others of a like mind such as Robert Herrick and Philip Henry Savage. During his first year he was elected to the board of the Monthly magazine which was almost unheard of for a first year student. He was heavily influenced in his thinking by the intensely intellectual atmosphere at Harvard and, following his studies there, decided to travel to Europe having been given the opportunity by a wealthy family of his acquaintance. This was a year-long tour throughout the whole continent and, on his return, he wrote a thesis on Sir Philip Sidney for his Masters'.
He began a period of teaching over the next few years and was a highly respected member of that profession, despite not especially enjoying the routine elements of the job. He relieved his boredom by both writing his own poetry and editing classic works by the likes of Milton, Home and Coleridge. His first poems were published in magazines like Atlantic Monthly and Scribner"s but then, in 1901, a collection of his work was published under the title Poems, this book being reviewed positively. Eight years later it was reissued and retitled



Here is an example of his poetry, an atmospheric piece called A Grey Day: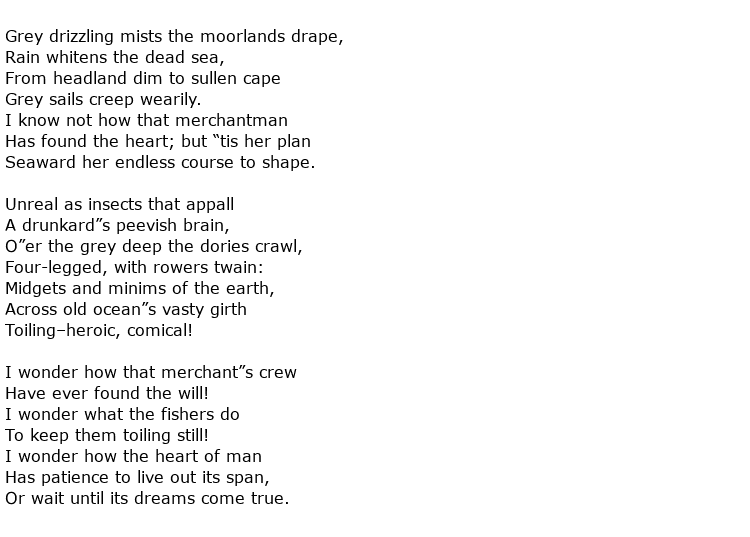 Moody also collaborated with others on the writing of plays such as A Sabine Woman, later retitled The Great Divide. This was phenomenally successful, enjoying a run of some 238 performances on Broadway. He could have turned this into a novel but refused all requests to do so, citing a threat to his "artistic integrity" as the reason. He was certainly a much-respected writer, even though his output of work was relatively small. There would probably have been much more though had he not been plagued by illness in his late thirties. One critic, writing in the Independent said the following of him:



He contracted typhoid in 1908 and, perhaps sensing the end was near, he got married the following year to a woman eleven years his senior, who cared for him during his final months. Blindness set in while they were on honeymoon and things just got worse as time went on, culminating in a brain tumour.
William Vaughn Moody died in Colorado Springs on the 17th October 1910 at the age of only 41.