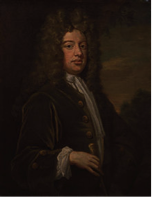 William Walsh was an British poet and also an MP. He was, perhaps, best remembered as a literary critic. His most famous work in that line was with a young poet destined for greatness called Alexander Pope. The two became close and Pope took on board any criticism offered by his friend, thus improving his own work.
He was born on the 6th October 1662 into very comfortable family circumstances. The family seat was a grand residence in Worcestershire called Abberley Hall which had passed into the Walsh family as a gift from Henry VIII. William's father, also called William Walsh, was a poet and descendent of a former member of Henry's royal court. He was a student at Wadham College, Oxford with the status of "gentleman commoner", beginning his studies in 1678. This effectively meant that he was there without a scholarship, without any financial advantages.
Nothing is known about his academic abilities other than to say that he left without a degree. With his family background he was able to return to his home county where he settled for some twenty years. During this time he entered Parliament, serving as a member for Worcestershire on three occasions. He moved constituencies in 1705, taking the North Yorkshire seat of Richmond. His efforts came to the notice of the royal court and, when Queen Anne succeeded to the throne, he was appointed Gentleman of the Horse, a paid position within the royal stables environment. He held this privileged post for only a few years though as he died in 1708.
As a poet he adopted a romantic style of writing, focusing mostly on love and the appreciation of women. In 1691 he wrote a piece called Dialogue concerning Women, being a Defence of the Sex. This was addressed to someone called "Eugenia". He also wrote a series of love lyrics



This was called



Here is an example of this kind of poetry, a piece called Rivals, which is a plea to a loved one called Sylvia for her affections, at the expense of any rival who might be competing for the same: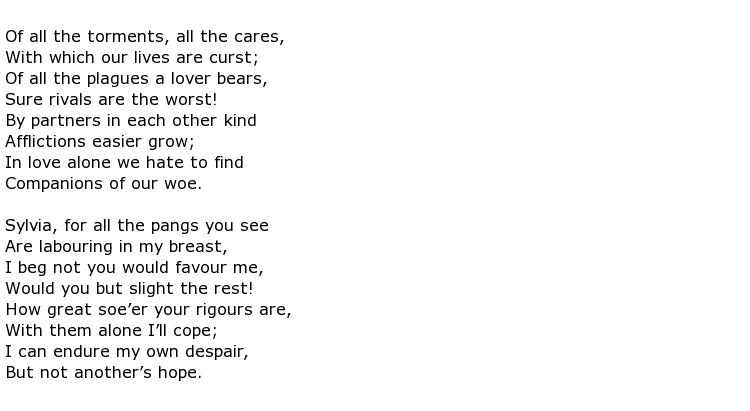 Walsh's connection with Alexander Pope came about when the dramatist William Wycherley got hold of a collection written by Pope called Pastorals during the year 1705. They then found their way into Walsh's hands for criticism and he launched himself enthusiastically into the task. A number of letters were exchanged between Pope and Walsh and they met at Abberley in 1707. Pope was clearly enthralled by his friend's literary attention and said:



The exchange of letters between the two appeared in a book published by Pope simply called Works.
There is also some suggestion that Walsh collaborated with others on translations of ancient texts, for example by Virgil, though these cannot be verified. There is evidence though of his work with William Congreve and Sir John Vanbrugh on an adaptation of one of Molière's farces, under the title Monsieur de Pourceaugnac, or Squire Trelooby. Some of Walsh's own poetry can be found in several anthologies of British poetry.
William Walsh died on the 15th March 1708 at the young age of 45.