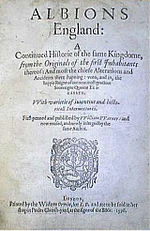 Little is known about the life of English poet, translator and lawyer William Warner although he made his mark on the history of English literature with his best known piece of work, Albion's England.
He was born sometime during the year 1558 in London. It seems that he had already lost his father by the time of his birth as, in passages from Albion's England, Warner describes his father as an adventurer, completing a trip to Russia in 1553 in the company of the great explorer and navigator Richard Chancellor. But, four years later, Warner snr died on another voyage, this time to the South American Guianas.
There are no firm records that detail his education, but a 17th century antiquary and historian named Anthony Wood suggests that he went to Magdalen Hall, Oxford. It is uncertain whether or not he gained a degree qualification but he went on to practice in London as a lawyer so he must have been qualified to do that. Warner was well known amongst friends as a poet though and, during his twenties, he set about writing his epic historical piece which was published in 1586.
Albion"s England was dedicated to Henry Carey, 1st Baron Hunsdon, who may have been Warner's patron. It was written in fourteen-syllabled verse. It was an ambitious sweep through history, beginning at Noah's construction of the famous ark and concluding in the turbulent times of the 16th century. Momentous events such as the beheading of Mary, Queen of Scots are included. But this was no history book in verse form. Warner took the liberty of including a number of fictitious events, liberally sprinkled amongst the historical facts. An example of this was in the fourth part, an idyll describing the loving relationship between a Danish prince called Curan and Argentile, the daughter of the king of Deira. This section was written in a simple, artistic way that appealed to many who read it and here are the opening lines: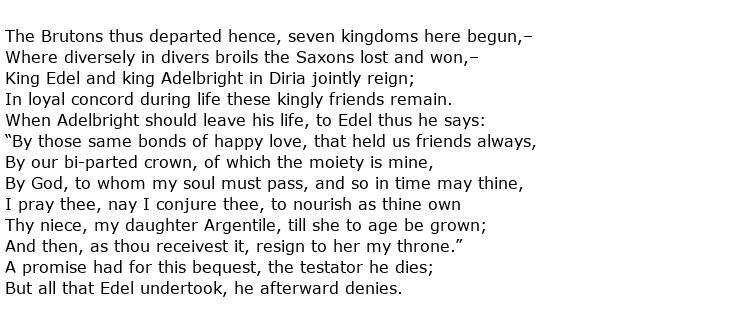 The patriotic nature of Albion's England, understandably, made the work extremely popular at the time. One of his contemporaries, the author and rector Francis Meres, went so far as to place Warner alongside the heroic poet Edmund Spenser, and even make comparisons with the work of the master of Greek tragedies, Euripides. However, much doubt has been cast on such comparisons by later literary critics. There were, originally, only four "books" but later reprints and reissues expanded the work considerably. By the time a posthumous edition came out, in 1612, there were sixteen separate parts to the work.
Other works by Warner include a translation, in 1595, of a piece by the Roman playwright Plautus which was called Menæchmi. Earlier he put together a collection of prose tales called Pan his Syrinx, or Pipe, Compact of Seven Reedes, which appeared in 1584.
Warner married quite late in life, at the age of 41, and his wife Anne produced a son who was born at Ware in Hertfordshire. Unfortunately this happy family life was short-lived.
William Warner died suddenly on the 9th March 1609, at Amwell in Hertfordshire. He was 51 years old.