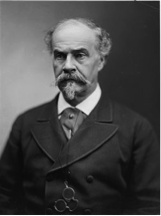 William Wetmore Story was a US born  art critic, poet, sculptor and essayist. He lived in Italy for much of his life and it was a coincidence that he died in the very place that had inspired him to write an earlier travel journal in 1881. The town, and journal, was called Vallombrosa.
He was born on the 12th February 1819,  his father a Massachusetts jurist. He received a good education which culminated in graduation from Harvard College in the late 1830s. He followed this with a spell at Harvard"s Law School, studying the law under his own father. He obviously had ambitions to become a lawyer and he was allowed on to the bar of Massachusetts. He enjoyed a relatively brief legal career during which he prepared two significant treatises, one on the subject of contracts and the other on the sale of (personal) property.
The law was not for him though and, in 1848, he decided to pursue a career as a sculptor in Rome. Here he found himself associating with famous literary figures as well, such as the Brownings. He was more motivated by sculpture than writing though and one of his early commissions was to produce a bust depicting his father, who had by this point passed away – a piece that is now displayed in Lowell Hall.
As was the custom during the 18th and 19th centuries all over Europe, his apartment in Rome became a regular meeting place, a weekly salon, for many other American artists and writers. So well-known was this group of like-minded friends that the writer Henry James, when writing Story's autobiography much later on, paid tribute to this literary and artistic circle by calling the book



This was the time of the US Civil War of course and Story wrote a number of missives to the News during 1861 which were published later as a piece of work called



Further articles published in Blackwood"s would prove influential on British opinion about the whole affair. Although sculpture was probably his main priority, he did write a number of lyrical poetic pieces and here are the opening verses to his poem titled Cleopatra: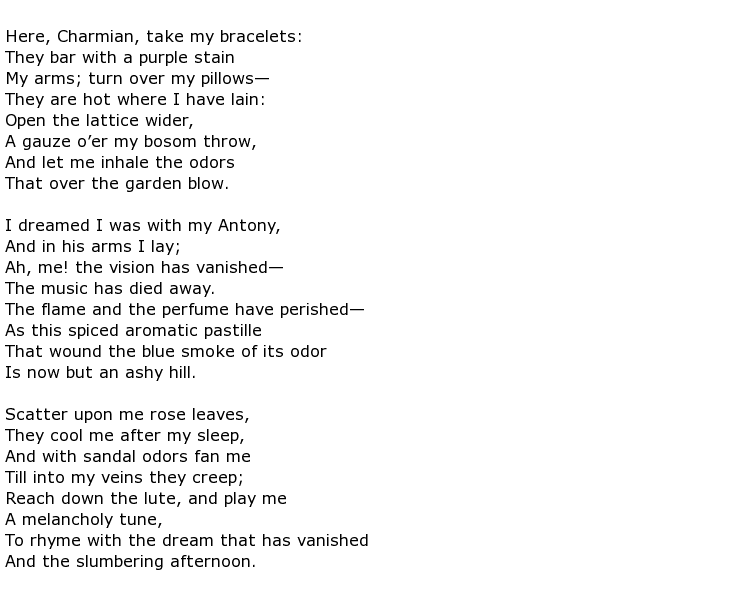 Coincidentally his best known piece of sculpture is also called Cleopatra and this bust of the Egyptian ruler can still be found at the Virginia Museum. Story also created many life-sized statues of famous people from history such as William Shakespeare, Solomon and Delilah. His plans for the soon to be constructed Washington Monument were much admired but, in the end, the obelisk that can be seen today was chosen instead.
His marriage to wife Emelyn produced three children, all of whom followed in their father's footsteps; one became a writer, another a portrait painter and the third a sculptor.
William Wetmore Story passed away at Vallombrosa Abbey, Italy on the 7th October 1895 at the age of 76. His body lies alongside that of his wife underneath a statue that he, himself, had designed.