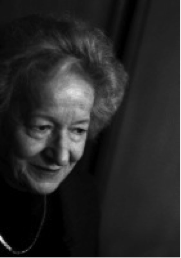 The 20th century was not an easy time to be a writer in Central and Eastern Europe and Wisława Szymborska struggled along with many of her Polish compatriots.  Yet, somehow, she survived the worst of times and survived to a ripe old age, seeing her country transformed and gradually brought out of the pit that represented the dark days of Communism into what is now a modern-day Poland with a much brighter future.  Along the way she became a famous poet, writer of prose and a translator and the so-called "Mozart of Poetry" received the 1996 Nobel Prize for Literature.
Wisława was born in Prowent in 1923 and when she was eight years old the family moved to Kraków.  She remained living and working in Kraków for the rest of her days. When the Second World War broke out she was only able to continue with her education covertly.  In the following five years she was fortunate to avoid the fate of many of her compatriots (transportation to Germany as a forced labourer or eastwards to the concentration camps and likely death).  While working on the Polish railways she began writing stories, poems and also drew for an English language text book. She will have known what a lucky escape she had so probably wrote the poem Hunger Camp at Jaslo at this time.  Here are the opening lines – a rage against man's inhumanity to his fellow man: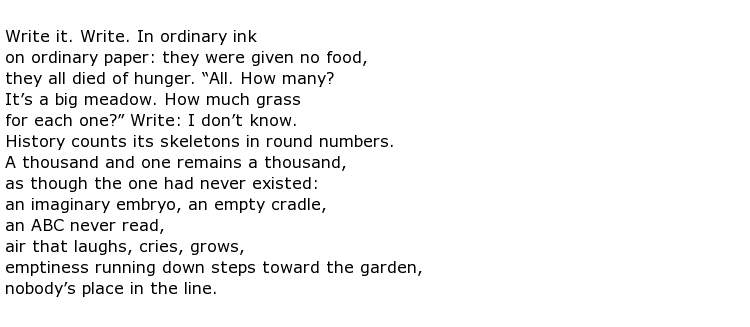 At the end of the war she returned to her studies, taking up Polish language and literature, then sociology at the Jagiellonian University in Kraków.  There were other writers here of course and she was inspired and encouraged enough to publish her first poem in a daily newspaper.  It was called Szukam słowa (Looking for a word). More followed, still in newspapers and periodicals, but sadly she had to discontinue her university studies in 1948.  She simply couldn't afford to continue.
Wisława tried to get her first book published in 1949 but it fell victim to the censor's heavy hand.  It was deemed to "not meet socialist requirements".  Like other writers she was required to confirm her loyalty in writing to the Stalinist/Leninist socialist ideals yet she was, at least inwardly, trying to break away from these shackles.  As time went by she toed the "party line", publishing politically correct collections like Dlatego żyjemy (That is what we are living for).   But she was inexorably set on a path leading away from such idealism and, despite remaining in the ruling Polish United Workers' Party until as late as 1966, she had close contact with dissidents like Jerzy Giedroyc.  He was a Paris-based editor of an emigré journal called "Kultura" and Wisława became a regular contributor.
The "Freedom of Speech" movement was gathering momentum throughout the 1970s and 80s and intellectuals like Szymborska were a driving force behind it.  She wrote in a number of Kraków-based monthly periodicals and maintained her contacts in France and Germany.  She translated French Baroque poetry into Polish at the same time as getting her own work published and popularised in Germany.
Throughout her life her poetry was ready by many in her homeland yet, despite her popularity, her output was relatively small.  She published only 350 poems and when asked in later life why she didn't write more her short answer was "I have a trash can in my home".  The collapse of Communism at the beginning of the 1990s allowed the rest of the world to see some of her work and this led to the award of the Nobel prize in 1996.  The citation read:



Wisława Szymborska died peacefully in her sleep, at home in Kraków surrounded by friends and family, in February 2012.  She was 88.