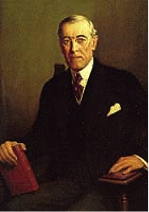 Woodrow Wilson was an American academic and occasional poet who had numerous books and essays published during his lifetime. He is, though, more famous for being President of the USA – the 28th, to be exact. He served for two consecutive terms of office running between 1913 and 1921.
He was born Thomas Woodrow Wilson on the 28th December 1856 in Staunton, Virginia. His family roots were Scottish, Irish and English and Thomas was one of four children. It was a fairly austere upbringing with both parents having strong Scottish Presbyterian links. His father was a minister of that church. It was, though, an atmosphere of strong academic qualities but the boy was initially hampered by a suspected case of dyslexia. He overcame this himself during his teen years, having the self-discipline to develop strong writing and reading skills without formal tuition.
In 1873 he went to Davidson College, North Carolina but this lasted only one year before going on to Princeton University. After three years there he graduated with a baccalaureate degree in 1879. His literary skills were honed at Princeton as part of the Whig literary and debating society. He submitted pieces of work for publication in the Nassau Literary Review. After Princeton he spent a year at the University of Virginia, studying law, but this was cut short for health reasons. He did, however, continue these studies at home and he was able to gain admittance to the Georgia bar in 1882. The law was not for him though. He was more interested in a political career.
In 1883 he went to the Johns Hopkins University, reading German, history and political science and he gained a PhD in Political Science after three more years of study. His doctoral dissertation was Congressional Government: A Study in American Politics. He continued to enjoy long associations with various academic institutions as both a scholar and a professor and he was a member of a number of literary societies, an example being the Irving Literacy Society when he was a lecturer at Cornell University between 1886-87.
Wilson's poetic output was fairly sparse, the majority of his written work, understandably, being of a political nature,. He published at least four major political works between 1885 and 1908. These, necessarily, serious pieces of work belied his ability to demonstrate an element of self-mockery, as evidenced in one of his poems which was called For beauty I am not a star. This was a short piece in limerick style which suggested that he was not all that enamoured with his own face! The poem is reproduced here:



His political career really took off from 1910 onwards with his march on the Presidency coming to a successful head in 1913, making him the first man from the southern states to achieve such high office. He had many achievements as President, including the reintroduction of the State of the Union address which had been abandoned for over a hundred years. His second term was, of course, dominated by America's entry into the First World War. He could, by this time, have been a spent force having suffered a long period of depression following his wife's death due to kidney failure in 1914. He wrote at the time:



He rallied though and, having remarried, he went on to become a successful President both in war-time and the peace that followed. His health suffered badly though when he had a stroke in September 1919 which left him paralysed on his left side and partly blind in his right eye. The extent of his incapacity was shielded from the American people for over a year but he managed to complete his term of office, this ending in 1921.
Woodrow Wilson died on the 3rd February 1924 at the age of 67.