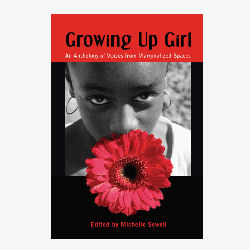 Lauren K. Alleyne hails from the Republic of Trinidad and Tobago. She is agraduate of the MFA program at Cornell University, where she currently teaches Creative Writing and Freshman writing seminars. Her work has appeared in Black Arts Quarterly, The Caribbean Writer, Sexing the Political, and The Hampden-Sydney Review. She is a Cave Canem fellow.
Anonymous grew up laughing in the sun, playing in the snow, and dancing in the rain. She never colored inside the lines. Today she is a recovering addict and anorectic. It has been almost a year since she tried to kill herself. Her brother and best friend taught her how to love life. She wants to make a difference. She is 19 years old.
Jessica W. Giles is Assistant Professor of Psychology and Human Development at Vanderbilt University. She received her PhD from the University of California at San Diego in 2004. Her scholarly research focuses on the development of social cognition, and she is particularly interested in gender development, violence prevention, and children"s involvement in the legal system. Her creative writing deals with themes of femininity, violation, resilience, emotion, and the sexual body.
C. Sala Hewitt is a writer, director, and performance artist. As a director she has directed a number of ground breaking threatre productions including "What It Iz! The Spokenwordical" (Blackout Arts Collective, 2006),"Descendants of Freedom" (by Andre Lancaster, 2004), "Lagrimas de Cocodrilo/Crocodile Tear" (by Ingrid Rivera, 2003) and "E to Jamaica Center" (by Justin E. Turner, 2002).
Faye Pompey has been in the custody of the state of Maryland since 2002. Living from pillar to post for the majority of her time in the system, she has decided to make something out of the fact that she was taken from the streets and given something to appreciate. Writing is her therapy.
What do these five women have in common? They are all among the nearly one hundred writers who are part of a new anthology released by Girlchild Press in April of this year. Growing Up Girl: An Anthology of Voices from Marginalized Spaces is "A diverse collection of poems, essays, and short stories that document the transition from girl to woman, as told by the girls and women who know the journey best."
Editor and founder of Girlchild Press, Michelle Sewell, is an award winning poet and screenwriter who believes that there must be a space for girls and women to develop and share their truest selves. It"s not a new idea, but Sewell has developed it dramatically throughout her career, creating writing circles, open mics and workshops to provide more than "a room of one"s own". She has been working for three years to bring Growing Up Girl to life, and her effort shows in the quality of the anthology.
These voices are real voices, raw and alive. They sing with joy, shout with exhiliration, whisper in the corners of your mind and shake you loose from any misperceptions you may have that poetry by girls is insipid, sweet and… well.. girlish. The juxtaposition of widely published poets and wordsmiths with girls who are still contemplating whether or not they will attend college and wondering just what is so special about the prom presents an uncompromising picture of what growing up girl in today"s world means.

Those are the voices of two of the girls whose work is featured in Growing Up Girl, as reported on their high school"s web site.
This is not a book that you"ll find at your local Barnes & Noble, or at Amazon.com – yet. For information on where to purchase it, or to set up readings from the book by its poets at your poetry venue, school or other reading space, contact Michelle Sewell through www.girlchildpress.com. And while we"re publicizing – Girlchild Press is looking for a smart, focused, and confident summer intern to help with media and PR for the book. If you know someone who fits that description, point them toward this craigslist ad.