It"s a busy week for the Cool Women Poets, a group of widely published poets from Princeton, New Jersey. The seven women started meeting in 1997 to critique and hone each others"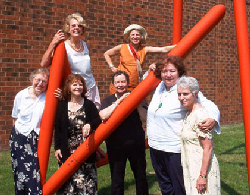 work, a meeting that continues to this day. Along the way, each of the writers has built an impressive body of published work – but more importantly, both singly and as a group they have combined to give back to poetry by mentoring young women poets, teaching in various workshops and universities, holding fellowships and generally spreading the word that being a woman poet is, well, cool.
Since 2000, the Cool Women have held an annual themed poetry reading at Micawber Books in Princeton on Valentines Day. This year, a blizzard forced cancellation of the event, which has been rescheduled as a Snow Day this coming Saturday. That"s just part of this week"s busy schedule for poets Betty Lies, Eloise Bruce, Joyce Lott, Judy Michaels, Carolyn Foote Edelmann, Penelope Schott and Lois Harrod. This evening, they"ll be at the YWCA in Princeton to celebrate the work of their mentored group, Cool Girl Poets, and on Sunday, the Cool Women take the stage again at Grounds for Sculpture in Hamilton, New Jersey.
Cool Girls Poetry Reading, Princeton YWCA
Featured Poets: Group of gifted young women poets, selected and mentored by Princeton"s Cool Women Poets: Penelope Schott, Judy Michaels, Betty Lies, Lois Harrod, Joyce Lott, Elois Bruce, Carolyn Edelmann
May 17, 2006, 6 p.m.
YWCA Princeton, 59 Robeson Place, Princeton, NJ
Third Cool Girls Reading to feature gifted young women poets chosen and mentored by Princeton"s Cool Women Poets, under the auspices of YWCA Princeton.
Sponsored by YWCA Princeton
Info: 609-497-2100, X 317
skubota@ywca@princeton.org
Snow Day Reading
The Princeton University Store has granted a "Snow Day" to Princeton"s Cool Women Poets, –Saturday, May 20, 4 p.m. Honoring the blizzard that canceled their annual Valentine"s Day appearance, the "U. Store"s" May reading will feature "Cool Women, Forces of Nature." [Princeton University Store, 36 University Place, Princeton 08540. Information, Anthony Johnson, 609-258-3657.]
Princeton"s Cool Women Poets present
Featured Poets: Betty Lies, Eloise Bruce, Joyce Lott, Judy Michaels, Carolyn Foote Edelmann, Penelope Schott, Lois Harrod
May 21, 2006, 3 p.m.
Grounds for Sculpture, 18 Fairgrounds Road, Hamilton, NJ
Princeton"s Cool Women Poets return to Hamilton"s prestigious Grounds for Sculpture for their Annual May themed reading: "Cool Women Sing the Body Electric". Princeton"s Cool Women Poets at the Princeton University Store. This critique group of 7 meet monthly to hone their work. Micawber Books requested their first group performance for Valentine"s Day 2000. They have been delilvering themed readings many times a year ever since. Of their three anthologies published since 2000, Volume III earned back its publishing costs within a month of launch. Sites incllude: New Jersey State Museum for poetry month 2005, Princeton University Store (every Valentine"s Day, now that Micawber isn"t giving readings), Grounds for Sculpture, Hunterdon Museum (every Valentine"s Day), Portland (Oregon) Mountain Writers Conference, Princeton Public Library, Somerville Library, Barnes & Noble Marketfair/Princeton (every April for Poetry Month), St. Phillip"s Church, New Hope, Writers" Room of Doylestown, etc. etc. etc.
Info: 609 689 1089
cfootedelmann@aol.com