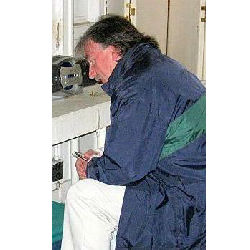 Blog: Bud Bloom Poetry
Blogger: Rus Bowden
Updated: Daily
Content: Commentary, musing, reviews, poetry
What He Reads: Books, Inq. by Frank Wilson
Last night we spoke with Bud Bloom, who blogs at Bud Bloom Poetry about poetry and blogging and ghosts and poetry and more poetry. We"d been talking for a while here at Poems-and-Poetry about doing a weekly "Blogs We Read and Love" feature, and when I ran across Bud Bloom Poetry, I knew that this was the first blog for this spot. Bud Bloom isn"t Bud"s only blog, nor the only place he writes about poetry – he also maintains the Poetry and Poets in Rags blog, a weekly companion to his poetry column of the same name at the InterBoard Poetry Community, and is a frequent contributor on the IBPC discussion boards. Bud (and his alter ego, Rus Bowden) has been a member of the online poetry community for some years now, and describes poetry as "a part of who I am". He speaks with great enthusiasm of being a part of that community, and of the role of poets in our society, and at Bud Bloom Poetry, he feels free to muse along those lines.
And muse he does. Bud Bloom Poetry is a constant surprise, delving into psychologist Roberto Assagioli"s theories of the self in one post only to tickle the childhood fancies with an entire post devoted to jump rope songs and rhymes in the next, and dancing away to discuss finding quality and accessibility in poetry a bit further on. Accessibility looms large in his conversation – poetry is for everyone, he maintains.
"There"s a world of it out there, and people will find the poetry that they like, they will gravitate to it naturally," he said in our conversation.
"My assertion is to listen or read for what you like. Above, for instance, I ask that we listen for music, and that then maybe we write more for the music. If someone comes along and says that this that I favor is too obtuse for them. Okay. That"s okay.", he writes in response to a comment to one of his blog entries.
And he illustrates it all with selections of poetry that range from Gertrude Stein to Edgar Allan Poe to Mother Goose to Jackson Mac Low. His commentary and musings are insightful and thoughtful, and his plans for his blog are inspiring. "Bud Bloom Poetry was going to be small potatoes," he said before going on to talk about seeing it as a chance to promote positive change. He sees the work of our recent Poets Laureate opening poetry up again, making it a part of people"s daily lives with things like Ted Kooser"s newspaper poems, and Poetry 180 bringing a poem a day to teachers and believes that online poetry is a part of that change. Rus"s plans for Bud Bloom Poetry include shaping it into a poetry channel, with live podcasts of poetry events happening around the country.
What about slam poetry, we asked him, Spoken Word and performance poetry? What do you think of it? "It"s not an experience life has brought me yet," Rus admitted. "I"ve been to poetry readings, but never to a poetry slam. If the opportunity happens, I"ll go. I"d love to go to a poetry slam."
And when life does open that opportunity for him, you can be sure that he"ll write about it the way he does about all the other poetry that is a part of his life – with an open, inquiring and insightful voice that informs even as it provokes thought.