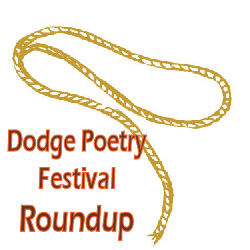 So I missed the Dodge Poetry Festival this weekend, but I"m hoping for next year. In the meantime, I"ve kept up with some of the excitement by following along with what"s coming out of there in a few blogs. Here"s a taste of what you would have seen and heard if you"d made it to Stanhope, NJ, this weekend for the 2006 Dodge Poetry Festival.
This evening, in the main tent, we were treated to 21 poets reading over the course of 3 hours, loosely organized around a theme of "How is the truth to be said." LJ Cohen, who maintains the blog Once in a Blue Muse at blogspot, and her own website at Blue Muse Poetry, blogged morning and evening, and added in snippets of poems heard and poems written at Dodge. The meditative, appreciative voice took me back to North Carolina, a dozen years ago. There is an energy in the air when poets gather that you"ll never feel anywhere else. LJ Cohen"s blog entries capture it well.
Also, we"ll be hearing from Rus Bowden, I"m sure, if not at BudBloom Poetry, then at Poetry and Poets in Rags. He was there – amazing how this world of poetry can be so deliciously small. When Lisa Cohen talks about the lovely conversation, I"m reminded all over again of my own lovely conversations with Rus about poetry, and my excitement to see that he has indeed taken to podcasting and audioblogging with a vengeance.
January O"Neill blogged all three days as well, and filled a page of pictures that make you lonesome for the place even if you"ve never been there. She wrote at Poet Mom:


Her insightful comments on poets, both emerging and nationally known voices, are refreshing to read. She"s going on my regular blog list after this!
Steve Sherlock"s posted more pictures at his blog, and short bites about the festival that were just enough to whet my appetite. He warned on Thursday that his blogging would be light, and it was – but I think he got the best pic of the Festival. Check out the empty chair at the Poets Only stage.
Finally, Anthony Buccino posted a wonderful 5-part series at his Uncletonoose blog. Buccino is a writer and editor from the noozpapah world, and it shows. His posts are more factual – less personal, and a lot of fun to read. Me, personally? I applaud the high school girl who waved a $50 in her principal"s face to try to pull together a field trip to Dodge.
[tags]poetry, poets, poetry blogs, Dodge poetry festival[/tags]