The World Cup kicks off this week, so we decided it would be fun to have a World Cup of our own: The Poetry World Cup. We thought it would be a good idea to show you some international poets you may not have heard of while also celebrating some of the world's best poets. If you are a football fan, you will have already noticed that the groups are organised in the same manner as the competition. One thing is for sure, if this were the real World Cup, England would have more of a chance with Shakespeare in their corner, wouldn't they?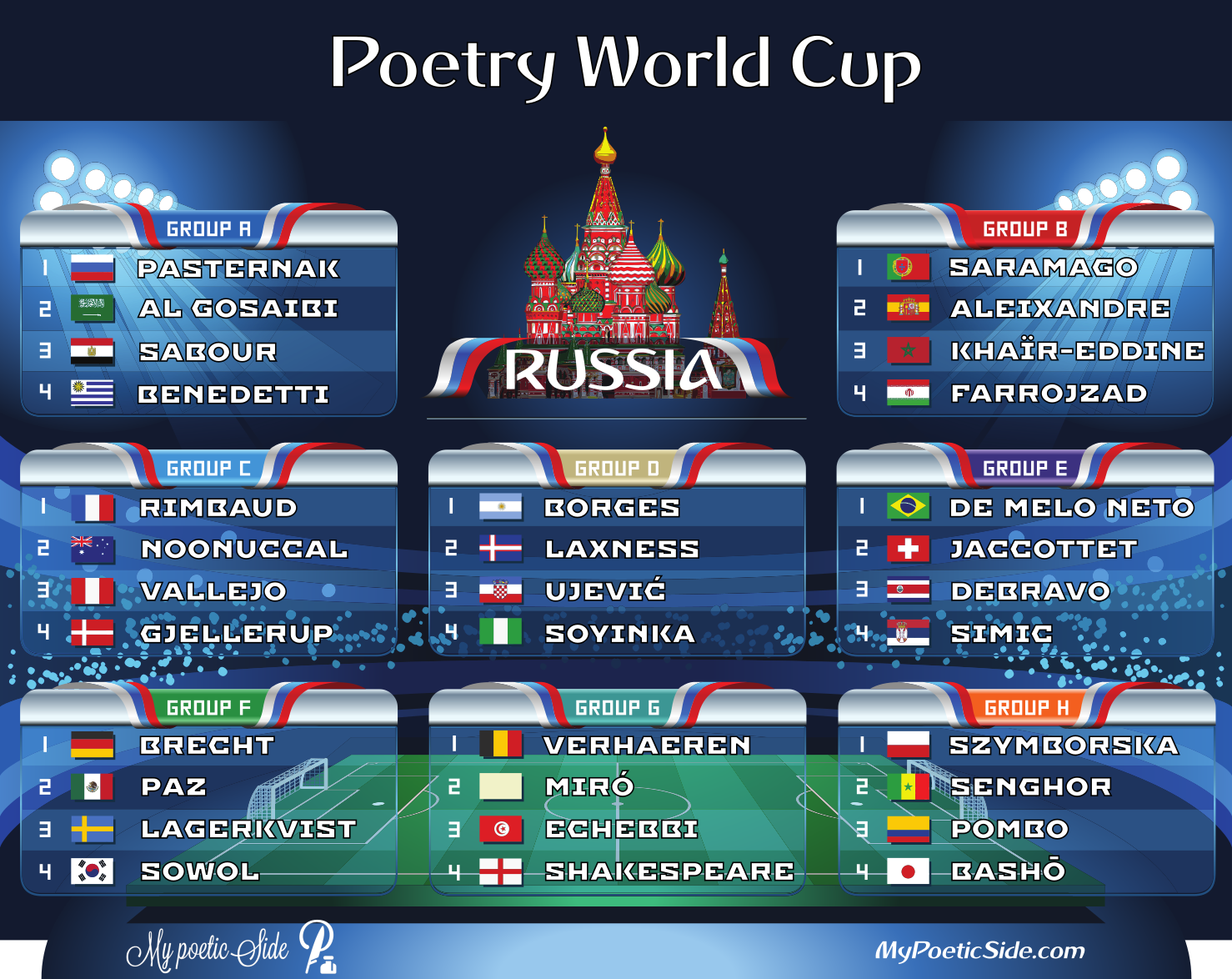 Embed code – Share this image on your site:

Vallejo and Rimbaud
So, let's take a look at some of the match-ups, as there are some tasty battles in the group stages. The match-up between Vallejo and Rimbaud stands out in particular. The Peruvian poet is considered one of the greatest poetic innovators of the 20th century. Ironically, Rimbaud had a big influence on a lot of writers from the 20th century, including the likes of Jack Kerouac and Dylan Thomas.
Neto and Brecht
At the moment, the current favourites for the Football World Cup are Germany and Brazil, but what do you think of their poetic representatives? Brazil is represented by De Melo Neto. He is the only Brazilian poet to receive the Neustadt International Prize for Literature. He is also considered one of the most influential late Brazilian modernism writers. Germany has Bertolt Brecht in their corner who wrote hundreds of poems throughout his life, including Children's Hymn, Mack the Knife, and Solidarity Song. He was actually another poet that was influenced by Rimbaud.
Pasternek and Gosaibi
The hosts of the FIFA World Cup this year are Russia, and the poet representing the host nation is Boris Pasternak. My Sister, Life (1917), his first book of poems, is deemed one of the most influential collections that have ever been published in Russian. He also translated a number of stage plays, including those by Shakespeare. As the host nation always does, Russia will kick off the World Cup next Thursday against Saudi Arabia, whose poet for our fantasy competition is Al Gosaibi. He was a significant diplomat-poet in the Arab world and one of their best-selling writers. He published almost 40 books, most of which contained poem collections.
Who's your favourite?
So, what do you think of this Fantasy Poetry World Cup? Who would come out the winner? Would you have chosen a different poet to represent some of the nations? There is no denying that competition would be fierce for a lot of nations.