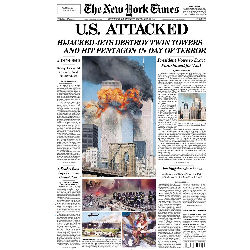 It"s been five years since the morning that I stood in front of a television set watching in stunned horror as the news services replayed over and over and over the footage of a plane crashing through the second of the twin towers at the World Trade Center. I have yet to write about it. The enormity of it staggers me still, and there is a part of me that whispers, "You weren"t there. This isn"t your story to tell."
I"m not sure why I have this reluctance to write about that day, or what came after it. The notion of trying to put so much emotion into words humbles me, makes me wonder what hubris would allow me to imagine I could shape a poem to convey even the tiniest bit of it. That, however, isn"t the case for many others – and that is a good thing. Poetry has always offered people a way to seek solace and comfort and begin healing. In recognition that tomorrow should be a day of commemoration and healing, I"m offering something a little different – a list of as many sites devoted to poetry surrounding 9/11 as I can find. Read, share, take comfort, heal.
september11victims.com
The site was online at 11 AM the morning of the attacks, and posted the names of victims as they were confirmed. In the five years since, the site owner has added photos, profiles and information about those that died that day, and opened it to comments. There are a few dozen poems posted here for the victims and their families. The one that brought tears to my eyes was this one.
Robert Pinsky reading his poem 9/11. Former Poet Laureate Robert Pinsky was commissioned by the Washington Post to write a poem commemorating 9/11. He read it September 12, 2002 on the MacNeil Lehrer News Hour for PBS.
About.com poetry guides, Bob Holman and Margery Shaw, solicited poetry for 9/11 after the attacks. The anthology is collected here, along with a sidebar of links to other collections of 9/11 poetry on the web.

Poetry for 9/11 at www.coping.org. Along with the poetry are videos, links to virtual memorials, slide shows and more.
A tribute from the UK in the form of a poem to be read by Simon Armitage, widely believed to be in line to become the next Poet Laureate of the UK. He"ll read the poem tomorrow evening on a national show, on the anniversary of the tower attacks.
Ten poems from poemsforfree.com that are free for any personal or non-commercial use.
The Internet Remembrance Campaign at worldatwar.org collected – and still collects – poetry and artwork inspired by the events of 9/11.
A memorial Syrnu posted at Authorsden.com, a moving combined work by over a dozen poets.