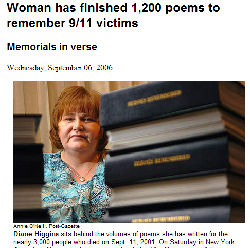 In the bustle of the past week, this story escaped me. I saw it and read it early in the week, and tucked it away for later, then completely forgot about it till I was poking through the latest poetry news. Reported in the Pittsburgh Post-Gazette on September 6 is this little tidbit about a poet with a mission. Diane Higgins has been writing poetry for the past five years – one poem for each of the nearly 3,000 people who died in the terrorist attacks on 9/11.
She doesn"t know if the poems are any good, she told the reporter.

Higgins researches and talks to family members before writing each poem so that she can include personal details. Her efforts so far are included in nine bound and alphabetized books that were presented to a representative of the families of victims at a memorial service held last week.
There"s something incredibly touching about this gesture – that a 52 year old woman who never considered herself a poet has set this task for herself in memory of people she never knew. There"s a clue perhaps in the fact that when Higgins broke her wrist last year and was unable to write, she found herself becoming depressed. Poetry is a therapy, an opening to healing, and it has obviously been that for her. Even more importantly, it seems to have become that for the families of some of those she has included in her poems. The project has become far more than she intended originally. She thought she could do it in a year, she says. Now, five years later, she is just about halfway through the list. I wish her luck, and hope that her poetry helps bring healing to those that it touches.