We begin our news round-up of the week with a look at a selection of poetry stories in the news linked to Armistice day.
£5 Commemorative Coin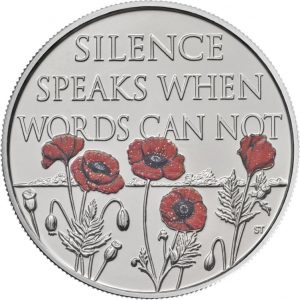 The Royal Mint have this year commemorated Remembrance Day – as Armistice Day is also known – with the minting of a special commemorative £5 coin. The coin was designed by Stephen Taylor who is a graphic designer working for the Royal Mint. Mr Taylor says that in creating the design for the coin he wanted to use something that is connected in people's minds with Armistice Day, and it didn't take long before he realised that the first thing that most people think of is the poppy.
Inspired by the poem "In Flanders Fields" by John McCrae, he chose to make his poppies as natural as possible, in fact as much like the poppies that must have inspired the poem. For generations, the poppy has stood as a symbol of remembrance, a reminder of those who have lost their lives or been injured during times of conflict.
The coin is available to purchase in two versions. The Silver Proof costs £82.50 and the Brilliant Uncirculated finish which costs just £17. A percentage of the money raised from the sale of each coin will be donated to the Imperial War Museums.
Young Poets Mark Armistice Day
Meanwhile in Bradford a group of youngsters gathered at the Kirkgate Shopping Centre to mark Armistice Day.
The youngsters were part of the Bradford Young War Poet competition which was a joint venture between the shopping centre and the charity Reading Matters. The idea behind the competition was to allow the children to be able to articulate on the subject of war.
A poem written by Aamna Rafaqat, a 13-year-old from Bradford Girls' Grammar School was picked as the winner and performed on Armistice Day.
"For The Fallen"
In 1914 Laurence Binyon, a Lancaster poet and art scholar wrote "For The Fallen". Although Binyon was himself too old to be able to enlist in the First World War, he was greatly moved by the number of casualties that he witnessed as a volunteer at a British Hospital which was situated in France; so moved that it inspired him to write the poem.
The poem which was initially published in The Times, has seen something of a revival in recent years and parts of it have been used in remembrance services all over the world.
In honour of the most famous war poet in Lancashire Binyon's poem featured in a short film produced by LuneTube for Remembrance Day. Whilst many people will have heard the poem few realise that the poet in question hailed from Lancashire.
Here we reproduce a part of For The Fallen: