We start the week here at My Poetic Side with the sad news that the poet Fay Chiang, who was a champion of Asian-American culture has passed away.
RIP Fay Chiang, Poet and Visual Artist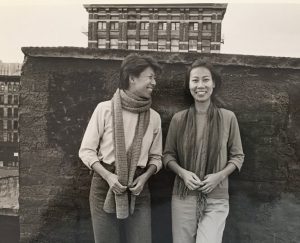 The poet, visual artist and activist Fay Chiang, who was born in Bronx, New York on 27th January 1952, passed away on 20th October. She was living in a hospice in the Bronx at the time of her death due to complications related to her cancer diagnosis; She had had several diagnoses for breast cancer over the course of the last 25 years of her life and the cancer had eventually spread to her brain.
Chiang was raised in the family's Chinese laundry in the Bronx; her parents had both immigrated from Sunwei in the Guangdong province during the 1930's. They both worked long hours, up to 16 hours per day six days a week to make the business a success. Chiang was the eldest child and the responsibility of getting her siblings ready for school fell to her even from a young age.
She attended Hunter University in Manhattan, and it whilst she was here that she became active in the movement which was against the Vietnam war. She also worked to establish Asian-American study groups, together with a number of her fellow students that were rolled out to other colleges n New York.
She was forced to leave college and return home to assist her father with the laundry when he was diagnosed with cancer. She went on to graduate from the School of Visual Arts in Manhattan with a degree in Illustration.
From the mid 1970's onward she took a number of jobs working with non-profit organisations, mainly serving the Asian-American arts community. She believed that culture was a weapon that could be used to its best purpose in activism and standing up for what was right. Many of the poems that she wrote not only touched on this subject but also the subject of her cancer; something she was determined to fight against for as long as possible. Her daughter was just five years old when Fay Chiang was diagnosed with cancer for the first time and despite going into remission several times the cancer continued to return, becoming a part of her life for almost a quarter of a century.
Chiang was a recipient of the New York State CAPS Poetry grant as well as a Revson Fellowship at Columbia University, a lifetime achievement award from the Asian/Pacific American Studies Department at New York University. She published 5 books of poetry over the years on a variety of subject matter, her poetry was rich a diverse and embodied her background and the events, including her cancer, that shaped her life.
Here we reproduce a part of her poem "Parents":
PARENTS
he,
came to America
aged 11 washing people's socks
slept in class
a paper son with false papers
bought back in the village
because America restricted aliens.
I have a cameo photograph of him.
Fay Chiang is survived by her daughter; Xian Chiang-Waren, and her sisters Jean and Janice Chiang. She was never married.