In our first News round-up of 2018 we bring you an article about another poet honoured by Google with a doodle and an article about an Iranian poet who has been sentenced to two years in prison.
Renowned Kannada Poet Kuvempu Honoured by Google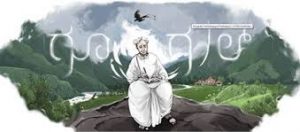 On Friday Google once again dedicated its doodle to the memory of a poet. The poet in question this time is the well respected and well known Kannada author and poet. He was the 20th century Kuppali Venkatappa Puttappa who is also often referred to as Kuvempu. The occasion was the 113th anniversary of his birth,
Kannada is a language spoken mostly in the state of Karnataka, the home of Kuvempu and the poet who was a strong advocate for its use in education is considered to be one of the foremost writers of the Kannada language of his time.
Googles doodle depicts the poet in his beloved home surrounded by nature. A fitting doodle indeed; Kuvempu was very much at home with nature and loved his work to reflect this. Flowers and the simple wonders of the world surrounded him.
Such was Kuvempu's contribution to Kannada Literature that in 1958 he was decorated with the honorific Rashtrakavi (National poet) by the Karnataka Government and then in 1992 with the



Here we reproduce a part of his poem Poovu (The Flower)


Iranian Poet Sentenced to Two Years in Prison
Mohammad Mahdavifar, the Iranian poet has been given a two-year prison term for making criticisms of Iran's Ali Khamenei – The Supreme Leader.
Mahdavifar, who is known best for his piece entitled "Alefba", which uses the letters within the Persian alphabet to highlight the crimes that have been committed there since 1979 when it was established is no stranger to prison having been arrested a number of times before.
He has previously appeared in court charged with disturbing the peace, and was sentenced to one and a half years in prison in 2015 for "Alefba", however, he appealed the sentence and was instead given a fine for the sum of $853.
In October of 2017 he was given a sentence of 3 years of prison life and a further four years of exile to Khash in the Sistan and Baluchistan province; the charges against him



However, on 22nd December the appeals court upheld two of his convictions; those of



Mahdavifar was not the only poet who was sentenced in October 2017, Reza Akvanian, a fellow poet and civil rights activist, was sentenced to a three-year prison term and 40 lashes for the crimes of

"Propaganda against the state" and "insulting the sacred".