Today's news roundup looks at one of the poets on the shortlist for the Griffin Poetry Prize. We also have a video made to create National Poetry Month and finally the poet who admitted to hitting a former girlfriend during a live Radio show.
Cree Poet Shortlisted for Griffin Poetry Prize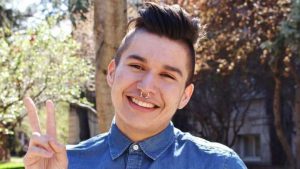 Billy-Ray Belcourt a Cree poet who is based in Alberta has been shortlisted for this years $65k Griffin Poetry Prize.



is his first collection and it seems certain that both it and the poet are destined for big things; he has been shortlisted for a huge number of poetry awards already.
The Griffin Poetry Prize is one of the most prestigious awards in Canada, and this year the winner will be made on 7thJune.
Belcourt, who is part of the Driftpile Cree Nation wrote the book over the course of three years. It touches not only on a variety of aspects of his own identity but also on the themes of race, sexuality and gender. It also covers the time he spent studying at Oxford University and the micro-aggressions that he faced.
The book was published in 2017 and since its release it has been gaining interest in the literary world where it has appeared on several shortlists. He is hoping to be able to help his family out financially if he wins the prize.
His second book



is already well underway and is due to be published sometime in 2019.
Animated Short Video to Celebrate National Poetry Month
This year West Hollywood city celebrated National Poetry Month with a rather special and unique five-minute video. The video, called



is an animation of the collaborative poem which has the name of the poem and is made up of content that has been contributed by over 100 people.
The poem has been created by Kim Dower – poet laureate of West Hollywood city and is a homage to the poem



by Walt Whitman, she created the poem during last year's National Poetry Month. The content was collated over a number of months before they were finally strung together by Kim Dower to paint a vivid and unique picture of the area.
The poem was also the inspiration behind Miguel Andrisani's art project



This artwork together with the words of Dower's poem were mixed with electro dance music to create the end video.
Kim Dower is a published poet with three collections under her belt, her work is also included in a number of anthologies. She has been a teacher at Emerson College and currently runs two workshops in the Antioch University"s B.A Program in Los Angeles;


Poet Admits Hitting Former Girlfriend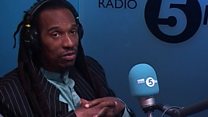 In a live radio interview with BBC Radio 5 live, the poet Benjamin Zephaniah admitted to hitting an ex-girlfriend and also behaving badly to others former girlfriends. He claimed that he later regretted his behaviour and that it shaped his current attitude towards women.
This week will see the publication of his autobiography