In our Christmas Day poetry round up we bring you a couple of news articles with a Christmas theme We take a look at Lemm Sissay, the poet who organises Christmas dinner for around 500 people  and we also glance at the Christmas cards of Seamus Heaney which are due to go on public display shortly.
Poet Holds Christmas Dinner for 500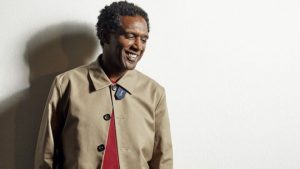 For the poet Lemm Sissay Christmas hold some particularly poignant memories. Seen as a time for spending with family there are many people who are alone on Christmas Day, many of whom are in care. Sissay himself spent time in care when an infant and then again when he was 12 to 18 so he knows what it can be like, the feelings of loneliness and that nobody really cares.
This is why in 2013 he decided to do something about this, his idea of holding a Christmas dinner for people who had been in care, so that nobody would have to spend the day alone, was so popular that from that first year with just a single event the idea has snowballed and this Christmas there"ll be 12 events taking place on Christmas Day across the country.
The dinners which will take place in



are hoping to play host to approximately 500 people. Sissay hopes that they will provide positive memories of the festive season for those who attend.
The events are run and organised by locals who have volunteered for the role. They will use  a "guidebook" from Lemm to help with the planning. This year has seen the setting up of the Lemm Sissay Foundation, as a charity they will now be able to secure the future of this wonderful event, something that is very important to the poet.
Lemm Sissay is, of course, best known for his poems which appears on walls and pavements throughout the city of Manchester.
The Christmas Cards of Seamus Heaney

At the beginning of the month we brought you a story about the Christmas cards of Robert Frost, it would seem he was not the only poet who spent a considerable amount of time designing and writing Christmas cards to friends and family.
The late Seamus Heaney designed all his own Christmas cards for over 30 years; he didn't just write a quick line in each one, he wrote an individual message; often a line from one of his new poems or some other item he was working on. Peter Fallon, The Gallery Press, who was a friend of the poets printed the cards for him each year.
Some of the cards represent certain points in the poets life; in 2003, he sent a card which include a picture drawn by his daughter when she was three, together with a translation of a medieval poem.
Now a selection of these cards – which have been loaned by the recipients is to go on public display at the Seamus Heaney HomePlace in Bellaghy. The display will also include "A Christmas Rhyme" an unpublished poem that was found whilst looking for the Christmas cards.