Today we bring you multi lingual poetry expressed in the form of a mural in Canada and an American poet with five published collections of poetry who believes that poetry must be performed to be truly appreciated.
Edmonton City Poetry Mural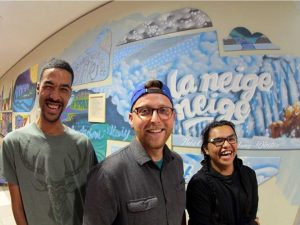 In a shopping mall in Edmonton City, Canada an awe-inspiring poetry mural has been erected. The poem, which is written in Cree, French and English, covers a huge 30-panel mural. The mural which has been primarily completed in a graffiti- writing style is for the most part the work of local artists AJA Louden and Clay Lowe. They depict riffs of the 11-part tribute "This City Edmonton –  Notre Ville – pêhonân" by former poet laureate Pierette Requier.
The images that accompany the words on the mural were not chosen simply at random, but by the process of an interactive collaboration at La Cité Francophone; Requier read the entire piece aloud and his audience wrote down any words and images that the poetry suggested, Requier refers to this process as catch poetry. The audience consisted of individuals ranging in age from 17 – 87.
The images that accompany the poem are varied, on one panel the idea of the city being like a river has been depicted, as it is in the poem, and the French word "arrive" – to arrive – has been painted over "a river" in this case the North Saskatchewan. Other panels depict the seasons, topography, architecture, people and even the art that defines the city.

The poem in its entirety can be read by walking through the mural, in much the same way as the poet got her inspiration by walking around the city; through ravines, suburbs, and studying the downtown architecture, through the seasons.
Clemens Starck: the bearded bard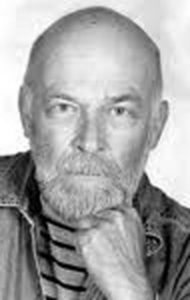 On Saturday 6th August, Clemens Starck, or Clem as he is affectionately known, will be taking part in the second of three 2017 Poetry in performance events that have been organised by the Mid-Valley Poetry Society. Fellow poet, and friend, Charles Goodrich will also be taking part in order to help Clem with his claim that:

A retired carpenter and construction worker, Clem is the author of five poetry collections. These works include "Journeyman's Wages" for which he won the Oregon Book Award and "Old Dogs, New Tricks" his latest collection which was published just last year. His poems are the voice of a working American tinged with just a hint of the Asian poets he has a fondness for.
What do you think of Clemens Starks claims regarding poetry and music, can a poetry reading really bring something to a poem that the written word can lack?