T. S. Eliot, the iconic contemporary poet, was a man intensely protective of his image, privacy and reputation. protective to the point that he openly asked friends and correspondents to burn his letters. For over two decades after his death, Eliot"s second wife Valerie worked with editorial assistants to collect and annotate his letters for publication, and in 1988 the first of what was expected to be five volumes of T. S. Eliot"s letters was published.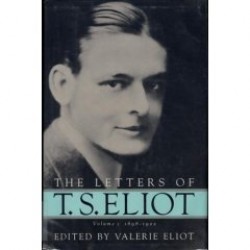 In the 18 years since then, The Letters of T.S. Eliot has been studied, critiqued, commented and used by contemporary scholars of Eliot and poetry as a reference and basis for reexamining the works of the poet and his life. Scholars eagerly awaited the publication of further volumes – but they were not forthcoming.
The first volume covers the letters written by Eliot up until the publication of The Waste Land in 1922, but Karen Christenson, a writer who worked with Valerie Eliot as an editorial assistant on that book, wrote in The Guardian, January 2005 that the letters published represented only half of the letters that were prepared for publication in that volume. It was originally meant, she stated, to cover the years up to 1927. Her reminiscences of working with Valerie Eliot show a woman as dedicated to preserving the image that Eliot so carefully cultivated as was the man himself. Christenson averred that no further volumes would be published during the lifetime of his second wife.
In the intervening years, letters to and from T.S. Eliot have made the news a number of times. Eliot"s letters to Emily Hale – bequeathed to Princeton University on the condition that they remain sealed until January 1, 2020 – even were the inspiration for a 1998 novel by Martha Cooley. In September 2005, a collection of letters from Eliot to his godson and publisher sold at auction for nearly a quarter of a million pounds – almost ten times what the lot of letters was expected to fetch. Here and there throughout those years there were lesser finds, small collections of letters to the various people in his life. Eliot, it seems, was a prolific letter writer and his letters offer an intimate look at the man who is one of the most prominent poets of the twentieth century.
This Tuesday, the Yorkshire Post quietly announced that a York University academic has been called in to serve as editorial assistant to Valerie Eliot. Since the publication of the first volume, nearly 200 more Eliot letters from that period have been found, and Hugh Haughton will help to revise that volume before embarking on two further volumes, that will contain letters to authors such as Ezra Pound, Virginia Woolf, Wyndham Lewis and French poet, critic and thinker Paul Valery.
Mr Haughton said: "It"s a quite extraordinary archive. Eliot was not only one of the great modern poets, but a critic, political commentator, editor, and dramatist.
"It is great news that the doors are now opening on an archive which will change the way that Eliot is read, and understood.
"They will throw light on his relationships with major literary figures in the US, Britain, France and elsewhere, as well as on the development of perhaps the most influential literary career in modern times.
"Eliot scholarship in the last 20 years has drawn heavily on evidence in the first volume of the letters and this new material will help scholars to review Eliot"s career in years to come."