Today's poetry round-up looks at the poet's love letters up for auction and Bad Poetry Day
Love Letters from David Jones The Welsh Poet and Artist up for Auction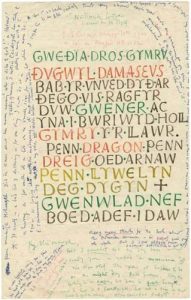 Today the auction house Bonhams will be auctioning a series of letters that were written by the painter and poet David Jones who was born in 1895 and died in 1974.
Jones was in amongst the first generations of modernist poets in Britain and greatly admired by the likes of W.H Auden and T.S.  Eliot. The passion that he had for his native Welsh language can be seen in the love letters, which have an estimated guide price of between £30,000 and £50,000. They were written between 1959 and 1974. This is thought to have been the most intense relationship that the poet ever had. The remainder of the letters indicate that whilst Jones had a number of romantic relationships with other women, they were all a more platonic nature.
Jones met Valerie in 1959, she was just 25 and he was in his 60s. He and Valerie shared a passion for the language of Wales. She herself was active in Plaid Cymru and a fluent Welsh speaker. They wrote to each other until the poet died in 1974.
Whilst Jones always claimed that the life he led, and his temperament, were not suited to marriage there are clear indications in the letters that his feelings for Valerie were very strong. At the beginning of the relationship, he wrote:

There are 126 letters in the collection which date from February 4th, 1959 to July 27th !974 and it is hoped that they will fetch at least £30,000.
Talking about the collection one of the experts at Bonhams said that the letters clearly showed the emotions of the poet and the important part that they played in his work. Some of the letters even feature illustrations, images of cats curled up in armchairs, floral vignettes incorporating Valerie's name and horses and pigs in the fields near his home.
B is for Bad Poetry Day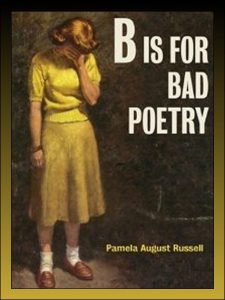 There really is a day dedicated to just about anything and whilst some days share their date yesterday was Bad Poetry Day (it was also Serendipity Day in case you were wondering).
The day was created simply to help people to understand good poetry better by reminding them about bad poetry. It is widely accepted that the poet William McGonagall was one of the worst poets ever, however reading his poetry should offer a good basis for creating your own, better, poetry.
McGonagall appears to have been unaware of just how awful his poetry was. He often gave poetry readings during which he was pelted with eggs by his audience, something he didn't seem to mind. He made little money from his work and was often humiliated in public.
He even walked to Balmoral from Dundee once because he believed that the queen might like to listen to his poetry. On arrival, he was informed that the works of Alfred Lord Tennyson were all the poetry the queen needed.
Critics would argue however that despite the disasters surrounding his poetry McGonagall is one name the world of poetry will always remember.