On today's poetry news roundup, we bring you the sad news that the literary world has lost a shining light in the form of the Chilean poet Nicanor Parra who passed away on 23rd January at the age of 103.
Chilean Poet Nicanor Parra Has Died at the Age of 103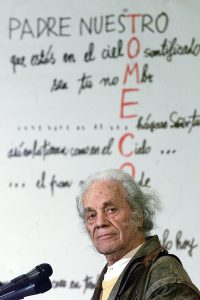 The death of the eminent Chilean poet, Nicanor Parra has been announced in the Chilean media, no reason for his death has been given. Parra who worked as a scientist before turning to poetry had celebrated his 103rd birthday in September.
Born on 5th September 1914 in Southern Chile Nicanor Parra grew up a member of the artistic Parra family, this was not however a path that held great interest to Nicanor who in 1938 qualified as a teacher of mathematics and physics, choosing instead to follow in the footsteps of his school teacher father. In 1943 he travelled to the United States where he enrolled in Brown University, to study advanced mechanics. This was followed by a period of study at the University of Oxford where he studied Cosmology. In 1946 he returned to Chili and settled down at the Universidad de Chile. In 1953 he became a professor of theoretical physics in Santiago, finally taking retirement in 1991.
During this period he spent much of his spare time writing poetry; his first book was published in 1937, one year before he qualified as a teacher. Over the course of his career he went on to write and publish a number of collections of poetry. His last book "El último apagón de luz", The last blackout, was published in 2017. Over the years the poet travelled all over the world visiting England, France, Russia, Mexico, Cuba and the United States where he gave poetry readings.
Parra is the poet responsible for the complete revolution of Latin American verse. He rejected the flowery diction that was so popular and created a more stripped-down poetry that was confrontational in its approach. He is also known for what he dubbed "anti-poetry" the dark comic form of verse that he used such a lot in his work.
Parra was the author of one of the most influential collections of Spanish poetry of the 20th century. Considered by many to be one of the most influential poets of the Spanish language his work is often cited as the inspiration behind the works of such poets as Allen Ginsberg, his fellow countryman Pablo Neruda and the writer Thomas Merton.
Despite this he won surprisingly few awards for his poetry over the course of his lengthy career. In 1969 he was the recipient of Chile's National Literary Prize, he was awarded a Guggenheim fellowship in 1972 and in 2001 he was awarded the highest literary honour in the Spanish-speaking world, the Cervantes Prize.
Parra was married twice, both marriages ending in divorce, and had a number of affairs, he fathered at least 6 children however it is not known how many of them have survived him.