In today's poetry round up we take a look at the poet Ovid, whose exile has finally been revoked 2000 years after his death and we note that the "Banksy of Poetry" has struck again in Cornwall.
After 2000 Years Ovid's Exile is Revoked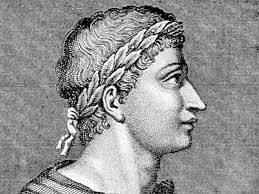 It might be 2000 years since he died but Rome have finally formally taken back the long exile of  Ovid the poet. The decision was made last week in the Rome's well-known historic town hall,Campidoglio.
During his time Ovid was a seasoned writer, best known for his



and also



. In 8 AD he was exiled to a far-off town located by the Black Sea a place that these days called Romania by Emperor Augustus, he never returned to Italy and died whilst in exile. He found living particularly difficult on the Black Sea and wrote many pleas to Emperor Augustus begging to be able to return to Italy, but his pleas fell on deaf ears.
The exact reason for him being banished has never really been known but Ovid himself claims it was something to do with



Scholars believe that this was in reference to the emperors grand-daughter who was banished at around the same time for adultery
The motion to have the exile revoked was put forward on the 2000th anniversary of Ovid's death by the Five Star Movement, a group of anti-establishment politicians who have been shaking up the Italian political scene for the last 5 years.
This is not the first time that a pardon or apology has been sought on behalf of a famous historical figure. In 2016 Gubbio, a small hilltop town in Umbria asked for forgiveness in the part that they played in the persecution and eventual exile of Dante, arguably Italy's most celebrated poet. A similar gesture had been made by Florence in 2008 when they declared their sorrow for the part they had played in exiling Dante.
Banksy of Poetry at it Again
The Banksy of poetry, who signs his work simply M Jones or Mark Jones, has struck again. This time the recipients of his poems have been hairdressers and barbers in Truro, Cornwall. For the last six weeks both Bridge Street Barbers and Inkfish have received a weekly festive verse in their post.
The handwritten verses have caused some confusion as staff thought they had received them in error, not realising that the elusive poet has struck before, many times. Each of the verses has been handwritten on black card using silver ink and includes the phrase "Keep you chin up, keep smiling". All of the poems have been posted from Lancashire.
At first both businesses though that the poems were from customers but when they dug a little deeper they discovered that this is not the first time the poet has sent random poems, nor the first time they have been sent to businesses in Cornwall.
Nobody is any closer to discovering who they mystery poet is, or why he sends his poems. Perhaps this is a case of only time will tell.