Today, we bring you the sad news of the passing of a well-known poet.
Michael Horovitz Dies Aged 86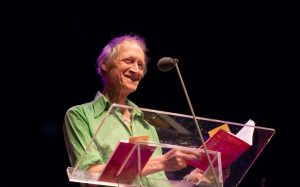 The performance poet Michael Horowitz has died at the age of 96.
The poet, who was also a publisher and staunch supporter of young up and coming poets, was a vital cog in the literary world. With influences ranging from folk to jazz, and also taking in his Jewish upbringing, he tried to preserve something of the Beat poets and the spirit of one of his favourite poets William Blake in his work.
His presence on stage was so much more than just poetry, it was an act then included paintings, singing, chants and even the shofar – an instrument normally heard on the Jewish new year. Much of his work was centred around his desire to relive the events of 1965 when he was involved in the "Wholly Communion" event, a poetry reading at the Royal Albert Hall when Lawrence Ferlinghetti, Allen Ginsberg and Christopher Logue appeared on stage and Adrian Mitchell spoke out against the war in Vietnam.
This was a venue that he returned to 30 years later when he delivered "The Return of the Reforgotten" an event that was attended by a number of rock musicians, a group who Horowitz believed were as much poets as poets themselves.
Whilst he was well known for his poetry collections, it was his editing of a small poetry magazine called New Departures that he is perhaps best known for. He was responsible for co-founding the magazine in 1959. Horowitz was tired of the literary culture in Britain at the time with the likes of TS Eliot and WH Auden dictating taste in poetry. His taste ran to the more transnational avant-garde. The first edition of the magazine began with a look at William Burroughs and ended with the work of Samuel Beckett. Over the years the magazine really set the tone for poetry with contributions from the likes of Ted Hughes and Jack Kerouac.
Born in Frankfurt in 1935 Michael Yechiel Ha-Levi Horovitz was the youngest of 10 children. His Jewish roots played a big part in his upbringing. In 1937 his family fled to London to escape the Nazi's. His thrifty upbringing as a member of a large refugee family also played a significant part in his later life and shaped his need to perform – with so many siblings in the house there were always shows being put on to entertain the neighbours.
Having attended school in north London he went up to Oxford where he read English. He began a postgraduate degree on the works of William Blake and James Joyce but dropped out preferring instead to concentrate on his own poetry.
In 1980, coinciding with the Moscow Olympics, Horovitz launched a Poetry Olympics. The event took place at Westminster Abbey, and he also published the accompanying manifesto that had been written by Ted Hughes at the same time. This was followed by another Olympic event in 1996 which saw an appearance from Kylie Minogue, and one in 2000 to celebrate his 65th birthday.
Horowitz was married to fellow poet Frances Hooker,who died in 1983. He is survived by his son Adam Horovitz, a performance poet.