Today on My Poetic Side, we take a look at the sad news that Ernesto Cardenal, the Nicaraguan poet and priest has died at the age of 95.
Ernesto Cardenal Dies Aged 95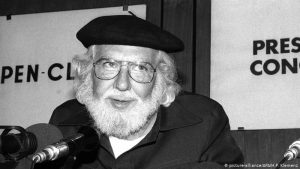 The Nicaraguan priest and poet Ernesto Cardenal passed away on Sunday at the age of 95. He had been struggling with kidney and heart issues.
The priest and poet was a symbol in Latin America and Nicaragua of revolutionary verses. He was sharply critical of Daniel Ortega, the President of Nicaragua. He was also suspended from the Catholic church by Saint John Paul II for over 30 years as a result of his political views. He was reinstated in February 2019 when Pope Francis gave him absolution from "all canonical censorships."
Born to a wealthy family in January 1925, Ernesto Cardenal studied literature first in Managua and then in New York City at Columbia University. He was introduced to the works of poets such as Ezra Pound, Walt Whitman and Emily Dickinson.
In the 1950's he returned to Nicaragua, but as a result of a failed coup, he fled to Kentucky where he joined the Gethsemani Trappist monastery. When he once again returned to Nicaragua, he was ordained a priest.
From early on he was a supporter of the Sandinista National Liberation Front, founded in the 1960s and named after the revolutionary who had been assassinated in 1934. To help the cause that he was so passionate about, he settled on an island in the Solentiname archipelago. It was here that he built a chapel and founded a community of artists and poets in 1966. The colony was opposed to Anastasio Somoza and taught painting and literature to locals.
Cardenal added his support to the 1979 Sandinista revolution that managed to overthrow the dictator, Somoza. However, his active involvement in the politics of Nicaragua earned him a rebuke from the Vatican.
Pope John Paul II scalded him in 1983 during an official visit from the Pope to Managua. The Pope refused to allow him to kiss his ring; instead wagging a finger at him and admonishing him for his involvement.
When the Sandinistas came to power in 1979 Cardenal was made minister for culture. He was suspended from the priesthood not long after for his political activities together with his brother Fernando who at the time was serving as minister for education and two other priests.
Towards the end of his life, he became very vocal in his criticism of Daniel Ortega, his former Sandinista ally suggesting that his rule was the start of a "family dictatorship". He also lent his support to the 2018 anti-government protests.
He wrote and published many books of poetry during his lengthy career. The most recent full collection was published in 2009. An anthology of his work was published in 2014 in Spanish as well.
Ernesto Cardenal leaves behind no close relatives he was predeceased by his brother Fernando who passed away in 2016.