In our poetry news roundup today we bring you the sad news of the death of another important member of the literary world; Claribel Alegria has passed away aged 93.
Central American Poet Claribel Alegría Dies Aged 93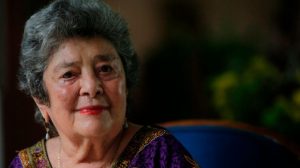 The daughter of a rebel from Nicaragua, who was also something of a firebrand physician who nearly lost his life to the US Marines for his part in the opposition of the puppet government of his country, Claribel Alegria passed away on 23rd January at her home in the capital of Nicaragua, Managua. It is believed that she died of a lung infection. Her ashes are to be split between El Salvador and Nicaragua – the two countries that she thought of as home.
Claribel Alegria was born on 12th May 1924 in Esteli, Nicaragua, she was christened Clara but later changed her name to Claribel. When she was just a baby her father moved the family to El Salvador, her mothers native land to escape from the civil war and occupation by US Marines that was just starting in Nicaragua.
At the age of just 6 years old Alegria began writing poetry. At the age of 18, she emigrated to the United States where she met the Nobel Prize-winning Spanish poet Juan Ramón Jiménez, who was to become both her mentor and teacher.
Her first book was published in 1948, the same year that she gained her Bachelor's degree in Philosophy and letters from George Washington University. It was Jiménez who helped her make the selection of poems that were published in the boo which was titled "Rings of Silence" (Anillo de Silencio).
She married an American Journalist and diplomat in 1947 and together they lived in many different countries all over the world; Mexico, Chile, the United States, Uruguay and Majorca. Up until 1980, they were also frequent visitors to El Salvador, a country that Alegria thought of as her homeland.
Claribel Alegria is one of the most celebrated writers to ever come out of Central America, she has published over 40 in a number of genres including poetry, fiction and historical accounts. Much of her work is based around her own life and the tragedies that she encountered on a personal level. There is also much documentation of the political unrest and the violence that plagued both the countries she called home, El Salvador and Nicaragua, for several decades, which is understandable given that at the age of just 7 years old the poet was a witness to a massacre which saw the military execute hundreds of peasants.
It wasn't until 1992 that Alegria felt able to return to El Salvador. She was forced to miss the funeral of her own mother because her family believed that if she returned they would be burying her as well; many of her poems condemned the political goings on in the country making her very unpopular with those in power.
During her lengthy career, Alegria received many literary awards including the Neustadt International Prize for Literature in 2006, the Casa de las Americas Prize, which is often referred to as the Latin American equivalent of the Pulitzer Prize, and the Queen Sofia Iberoamerican Poetry Award just last year.
Claribel Alegría is survived by her four children; Maya, Patricia, Karen and Erik. Her husband of 47 predeceased her in 1995.