In our final news round-up of the week, we look at a collection of Pablo Neruda Ephemera that will be going up for auction.
Archive of Pablo Neruda Ephemera Goes up for Auction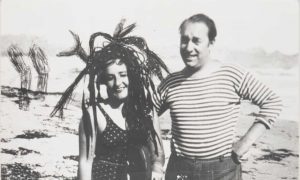 A collection of photos, rare book, letters, postcards and artefacts relating to the diplomat and poet Pablo Neruda is shortly to go up for auction. The collection contains over 600 books as well as a huge amount of other paper memorabilia.
The collection, which is possibly the most significant Neruda archive that is owned by a private collector has been lovingly put together over a period of 25 years by a poet, collector and winemaker; Santiago Vivanco. Possibly the best piece in the collection is a first edition copy of



that was published in 1924 – the book was so rare that Neruda himself never owned a copy.
The rarity of the book is made even more so by the fact that it was inscribed by Neruda himself. In his own trademark green ink the poet wrote



There is also a manuscript in the collection which was dedicated to Salvador Allende, the president of Chile, who was also a friend of Neruda. Allende's government was overthrown in 1973 by a coup backed by the US just a few weeks before Neruda died.
Vivanco first encountered the poetry of Neruda as a teenager, and he began building up his collection from that point. He tracked down pieces of his work and life from all over the world, amassing a collection that offered him a huge insight into that part of the 20th century. Neruda lived through the Spanish civil war and the cultural upheavals of Latin America.
He also learned about how Neruda used his political, diplomatic influence to help others, and how the man who wrote so beautifully about love was accused of rape, and in fact, treated the women in his life very badly. In his own memoir, Neruda admitted to raping a woman who worked as his servant when he was a young diplomat.
Having spent 25 years amassing the collection which begins with a photograph of the poet aged just 18 months and ends with a manuscript he had been working on just 10 days before he died Vivanco believes the time has come to sell the collection.  He is hoping that the joy that the collection has given him can now be shared with another. It is his hope that the collection will end up in a university of a major library, hopefully in Chile.
Neruda himself was a collector, he loved books and would almost certainly have approved of this particular collection.
Vivanco travelled all over the world to put his collection together but the most remarkable find in the entire collection was found, not in Chile, but in his own home town. A girl who had been confident to her grandmother mentioned that the grandmother had been one of the poet's lovers and she had a box of items. The box not only contained photographs and letters but also a rare first edition of "Residence on Earth" a book which only had 100 copies printed.