We begin the week with a look at the poets the British Library has added to their Slave Dossier.
Poets Added to Slavery Dossier by British Library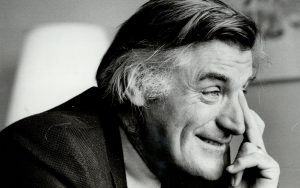 In an effort to be seen as being more active in their anti-racist efforts the British Library has decided to add individuals to the slavery dossier even if their connections are somewhat tenuous.
As a result of this they have decided to add the poet Ted Hughes to the list due to an ancestor of his, who was born in 1592, who was "heavily involved" in business with London Virginia Company. This ancestor was born more than 300 years before the poet.
Ted Hughes had a rather humble beginning in life. However, curators working on behalf of the printed heritage collection at the library have been doing some research and as part of this research have uncovered the link. This connection is to profits that were obtained from either slavery or from colonialism.
The relative in question is Nicholas Ferrar, who came from a family that was not only very heavily involved with the dealings of the London Virginia Company, but also helped established North American colonies.
During this research, the British Library has also identified far removed relatives of the Oscar Wilde, Lord Byron and George Orwell. All three have also been added to their list. This move to become a more anti-racist organisation comes in the wake of Black Lives Matter.
This incredibly tenuous addition of Hughes to the list has raised much scorn amongst experts who have stated that it is ridiculous to link Hughes in any way with the slave trade. Judging his work because of the actions of a distant relative so long ago is just a farce.
During his lifetime Ferrar was in fact very well known as both a scholar and a priest, he funded Little Gidding, a religious community that was later made famous by TS Eliot – one of Hughes idols.
Hughes, who was married to Sylvia Plath the American writer and poet became famous for his work which looked at the brutality that is all around us in the natural world.
Lord Byron has been added to the list courtesy of his great grandfather who was a merchant and owned an estate in Grenada and also his uncle by marriage who was a plantation owner in St Kitts/ Speaking on behalf of the Byron Society, Emily Paterson-Morgan said that it was very important to look at writers by the values and standards of the times in which they lived and that "forced politicisation" of literature could be reductive.
Orwell's great grandfather was a rich slave owner residing in Jamaica however the Orwell Society have confirmed the writer never benefited from this wealth as it was gone long before he was born
Wilde was also added to the list because he had an uncle who had interests in the trading of slaves, but there is no evidence to suggest that any of the money generated was available for him to inherit.
Rudyard Kipling is referenced on the list because the British Empire was a central theme in The Jungle Book, and Samuel Taylor Coleridge because although he expressed anti-slavery views had a nephew who worked closely with those running slave-worked plantations.