We begin the week here at My Poetic Side with the news that a significant figure in the US literary world has passed away.
Ntozake Shange the US Poet and Playwright Passes Away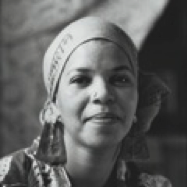 Ntozake Shange, the US author, playwright and poet who is most well-known for the play "For Colored Girls Who Have Considered Suicide /When the Rainbow is Enuf" which was nominated for a Tony Award in 1975 has passed away at the age of 70. Her death was announced by her daughter, who said that her mother had passed away on Saturday but did not reveal the cause of Shange's death. Shange had been recovering from a serious of strokes in recent years but it is believed that her health had been improving recently.
Born in October 1948, Shange was originally called Paulette Williams, a name she was known by until 1971. She was born into a family who had a very strong interest in the arts and her younger years saw many interesting figures from the word of music and the stage visiting her parents' home. She attended a number of different schools, some segregated and other not, during which time she found herself face to face with both racism and harassment; it is this period in her life that was later to heavily influence her writing.
Whilst Shange was attending Barnard College of Columbia University she met Thulani Davis, a fellow poet who she would later collaborate with on several different works.
During her first year at the college Shange got married, however the marriage was not happy, and she separated from her husband. These event lead to a very low point in her life, it was at this point that she attempted suicide. In 1971 Shange had managed to put these feelings behind her and she changed her name to Ntozake Shange (Ntozake means



in Xhosa, a language used in Zimbabwe, and Shange means



and is Zulu in origin).
Shange had an extensive catalogue of works that she produced during her lifetime, including plays, poetry, children's books, novels and several essays. She co-wrote one of the novels "Some Cry" with her sister Ifa Bayeza). But her most famous work


is the one she will be most remembered for, not only was it a powerful story that was in 2010 adapted for film, but it was also what the poet herself termed a choreopoem. This work was a mixture of poetry, music and dance, it translated well to the stage and even had a run on Broadway.
Her writing expresses everything about how it felt to be a Black woman in America, both as she saw it when growing up and as she reached adulthood. She received many awards for her writing including the Langston Hughes Medal for Literature in 2017. This year she had been chosen by the Poetry Society of America to be a recipient of the Shelley Memorial Award – named after the poet Percy Bysshe Shelley.
She leaves behind a daughter and a sister.