Today in our poetry news roundup we look at hidden poem recently found in a 17th-century document and more #comfortandhope poetry.
Hidden Poem Found in Plea Roll from 17th Century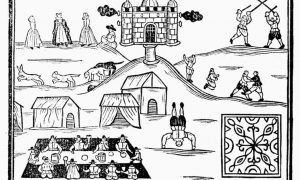 A poem by the poet Robert Dover has been uncovered, where it was hidden in a plea roll, which is a legal document, that dates back to the 17th century. The parchment, which belongs to the National Archives gives some interesting insights into the man who featured in important legal and literary circles around this time.
Robert Dover was a friend of  Ben Jonson, the poet, and also a King's Bench attorney. The poem which is quite short is a lament to the state of his handwriting on his plea rolls, a shortcoming he claims was because of a shortage of a type of apple called the gall apple, the substance from which he created his ink.
The poem has been written in the margins of the rolls for a legal proceeding and was discovered last month due to the work of one of the principles specialists working in the records department at the archives. There are many plea rolls. They are a metre long each and consist of up to seven hundred parchments, all handwritten.
In 1612 Dover founded– an annual sporting competition that takes place at Whitsun, named The Cotswolds Olimpick Games.  The competition is still around today – although this year it was cancelled due to Coronavirus – which involved wrestling, shin-kicking, tumbling, and plenty of merriment.
A 1636 depiction of the games shows a picture of Dover as the games' master of ceremonies on horseback. The account also contains thirty-three poems written by other poets for him with poems from Ben Jonson and Michael Drayton amongst them.
The poem found gives historians a different picture of the poet and clerk to that which is associated with his role in the Olimpicks' festivities. The poem shows a real play with words and clever use of language as the poet tells of his plight, whilst indicating that despite the rather mundane nature of his job he was quite a fun character.
Dover was born in Norfolk sometime between 1575 and 1582. He attended Cambridge University and in 1605 was admitted to Gray's Inn, he was called to the bar in 1611.
More #comfortandhope
A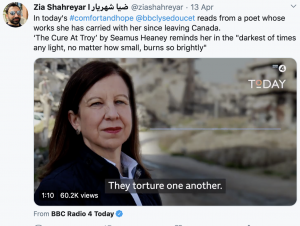 s it has been confirmed that the lockdown in the UK will continue we bring you more of the #comfortandhope poetry that has become an important part of the programming of the BBC Radio 4 programme each morning.
Yesterday it was the turn of Jim Naughtie who read from Thomas Hardy's The Darkling Thrush. He said of the poem that it showed him the power that nature has to bring people out of themselves in a profoundly simple way.
On 13th April Lyse Doucet read The Cure At Troy by Seamus Heaney, a reminder that even in the darkest times any light can burn very brightly.