Today on My Poetic Side we take a look at a poetry competition in Exmouth, a clever internet tool that creates poetry from webpages and the Poem-a-Day initiative for National Poetry Month in America.
Coronavirus Lockdown Poetry Competition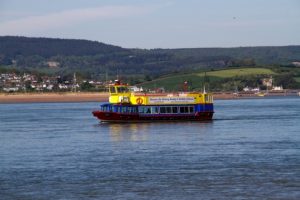 Stuart Lines Cruises, an Exmouth attraction, has launched a poetry competition in the hopes of providing positive memories for people to focus on in the coming weeks.
The competition which was launched via their newsletter wants to spark conversations between those members of families who are having to self isolate.
Here is only one rule for the competition and that is there must be a nature theme to any entries, if there are boats or water in the poem then that is also allowed. The winner will receive a voucher for one of the company's bird watching cruises.
All entries should be submitted to the competition by 8th April.
Clever Tool Finds Hidden Poetry in Web Pages Many poets are familiar with the term blackout poetry; the art of creating a poem by using an established piece of text such as a newspaper article and using a black marker to blackout some of the words in order to create poetry from the words that remain, well now there is a clever computer tool that does the same job.
The tool or art piece, depending on how you look at it uses javascript in order to remove some parts of the text that it finds on any webpage before creating an erasure poem. The tool is called Deletionist and its creators describe it as a tool that



Deletionist isn"t a new concept, it was created in 2013 but it is becoming more widely known about. Unlike other possible options out there that may attempt a similar thing the system is deterministic; it does not use any randomisation. Instead, it looks at the properties of the webpage that it is looking and before determining which method of erasure it will use from its inventory. Using the tool on different webpages can offer some very different and unique outcomes.
If you like blackout poetry, then this might certainly be something to take a look at.
National Poetry Month in America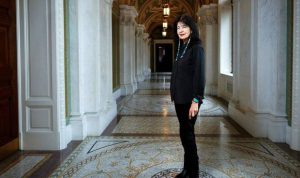 For American poets, April is one of the busiest and nosiest dates in their calendar with National Poetry Month taking place. Due to coronavirus pandemic however this year the celebrations will be scaled down and mostly conducted online.
Joy Harjo, the US poet laureate has been selecting poems by contemporary poets that will be used for the Academy of American Poets' "Poem-a-Day series. A total of 22 new poems have been selected including works by Rita Dove, a former US poet laureate, Ray Young Bear a winner of the American Book Award and Naomi Shihab Nye the Young People's Poet Laureate.
Poem-a-Day is available to anyone who can sign up for the scheme online and the poems are sent out via social media channels and emails in order to reach as many people as possible.